Looking for some DIY Silhouette or Cricut Valentine projects?
The season of love is upon us, friends! And what better way to celebrate this season than with some handmade crafts using your Cricut machine!?
We have a massive list of some of the best Valentines ideas with Cricut and Silhouette machines from around the web.
There is something for everyone on this list, from banners, boxes, non-candy school gifts, t-shirts, etched glasses and so much more!
Enjoy!
BEST DIY Silhouette and Cricut Valentine Ideas
Find 18 fabulous Valentine craft ideas from all of our favorite craft bloggers below. If you own an Etsy shop or you love to sell at markets you will also find loads of inspiration of Cricut Valentine projects to sell. There are great Cricut Maker Valentine Projects as well as ideas of what you can whip up with the Explore Air 2 as well.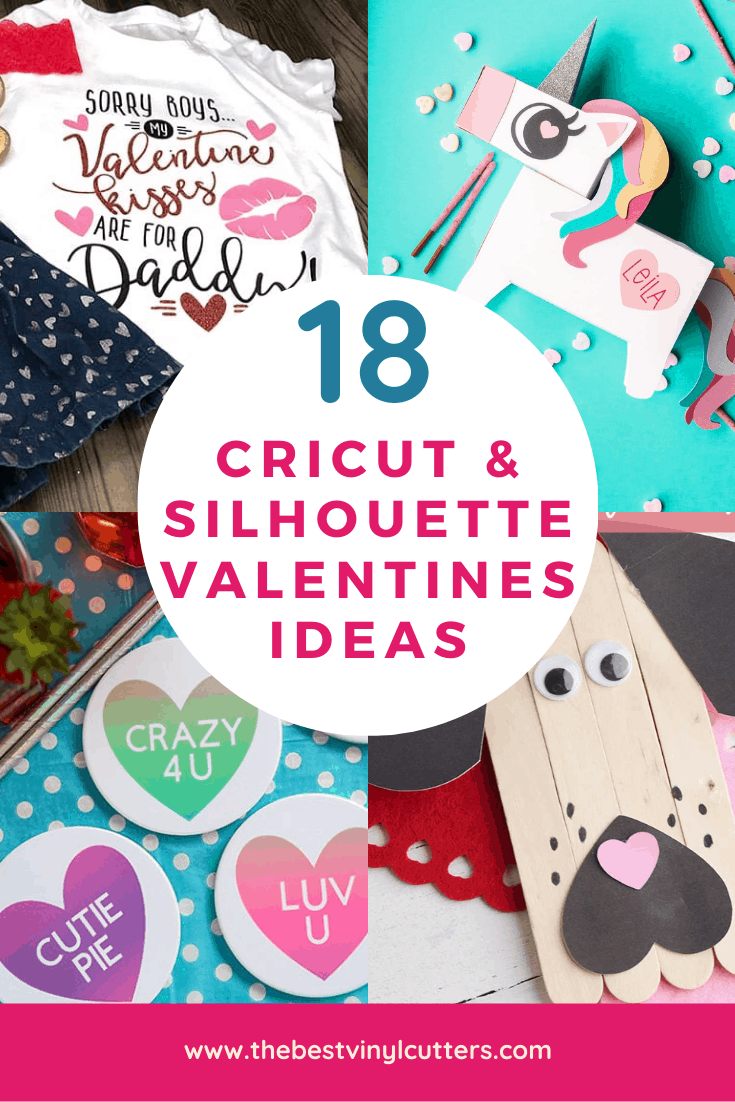 Our Favorite Silhouette & Cricut Valentines Projects
Find below all Valentine's craft ideas that you can create with either a cutting machine or a heat press (or both). Here is our fabulous guide to help you find the best cutting machine for home.
1. DIY Valentines Vinyl Shirt for Daughters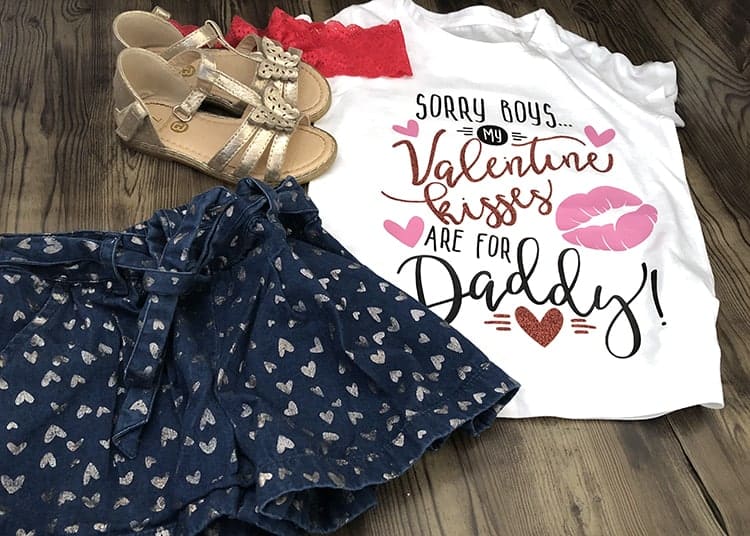 If you are looking for Cricut valentine shirt ideas for toddler girls (or for any other aged daughters), we have a super sweet DIY custom Valentine HTV t-shirt tutorial to share with you all.
For this tutorial, you will need either a Cricut Explore Air 2 or a Cricut Maker (or another cutting machine), as well as either an EasyPress or a Heat Press Machine.
You can find the full tutorial here on our website.
Tip: Stop using an iron to adhere your HTV. You will have much more control over your HTV application when you use a good quality heat press. See our favorite heat press machines in our guide here.
2. Conversation Heart Infusible Ink Coasters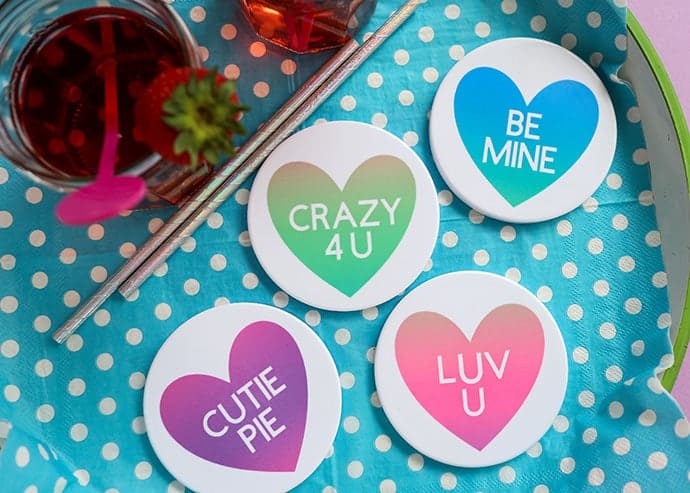 Warm-up a big mug of hot cocoa and make these fun infusible conversation heart ink coasters for your special someone. Guaranteed you'll have a great conversation over how cute they are (pun intended!)
Cintia has all the step-by-step instructions for you to follow on her blog: My Poppet Makes
3. Adorable DIY Cricut Valentine Bookmarks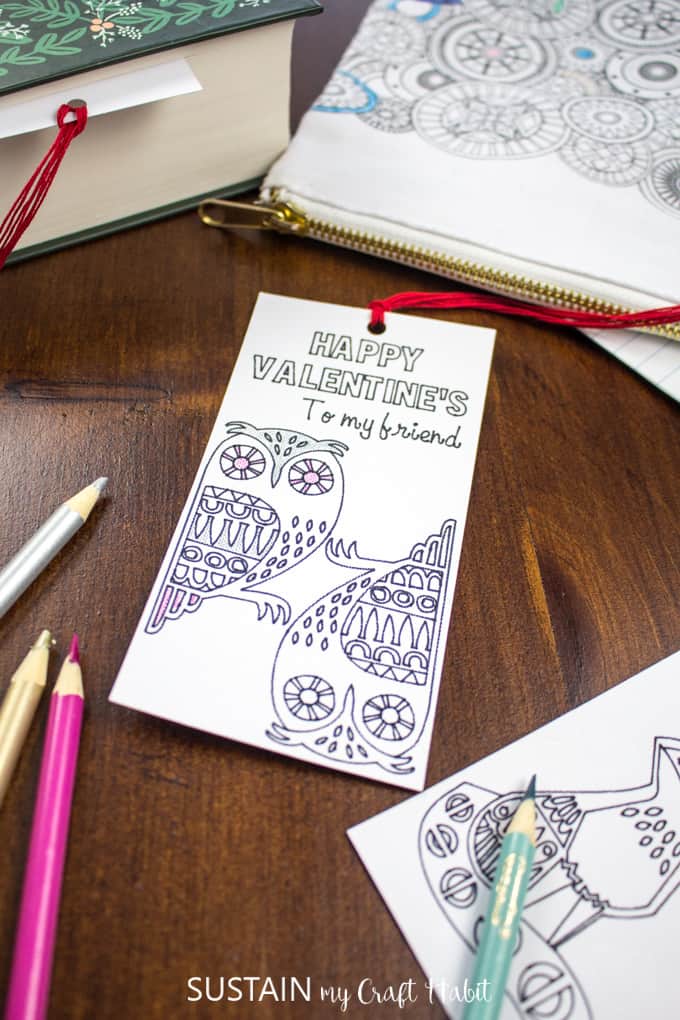 These Valentines coloring bookmarks with the Cricut Maker (or another machine that has the ability to draw) are a great non-candy valentines gift option for classmates or friends. How cool would it be to gift one of these with a set of some coloring pencils – I think it is super cute!
Ivy from Sustain My Craft Habit shares the full step-by-step projects instructions on her blog.
Did you Know: The Cricut Maker has the ability to draw coloring pages, write words or draw pictures? Read our Cricut Maker review here.
4. Valentine's Day Love Blocks with Your Cricut Cutter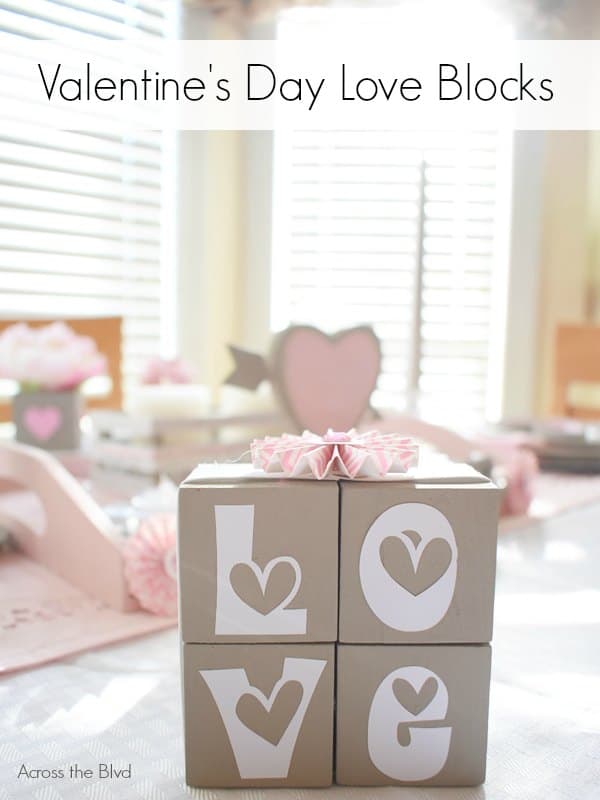 Make a simple Valentine's Day decor piece from wood blocks and vinyl letters using a Cricut Air Explore 2 (or any other stencil cutter). This can be made quickly and it looks great for Valentine's Day! So sweet right!?
You can find the full tutorial on Beverley's blog: Across the Blvd.
5. DIY Unicorn Valentine Box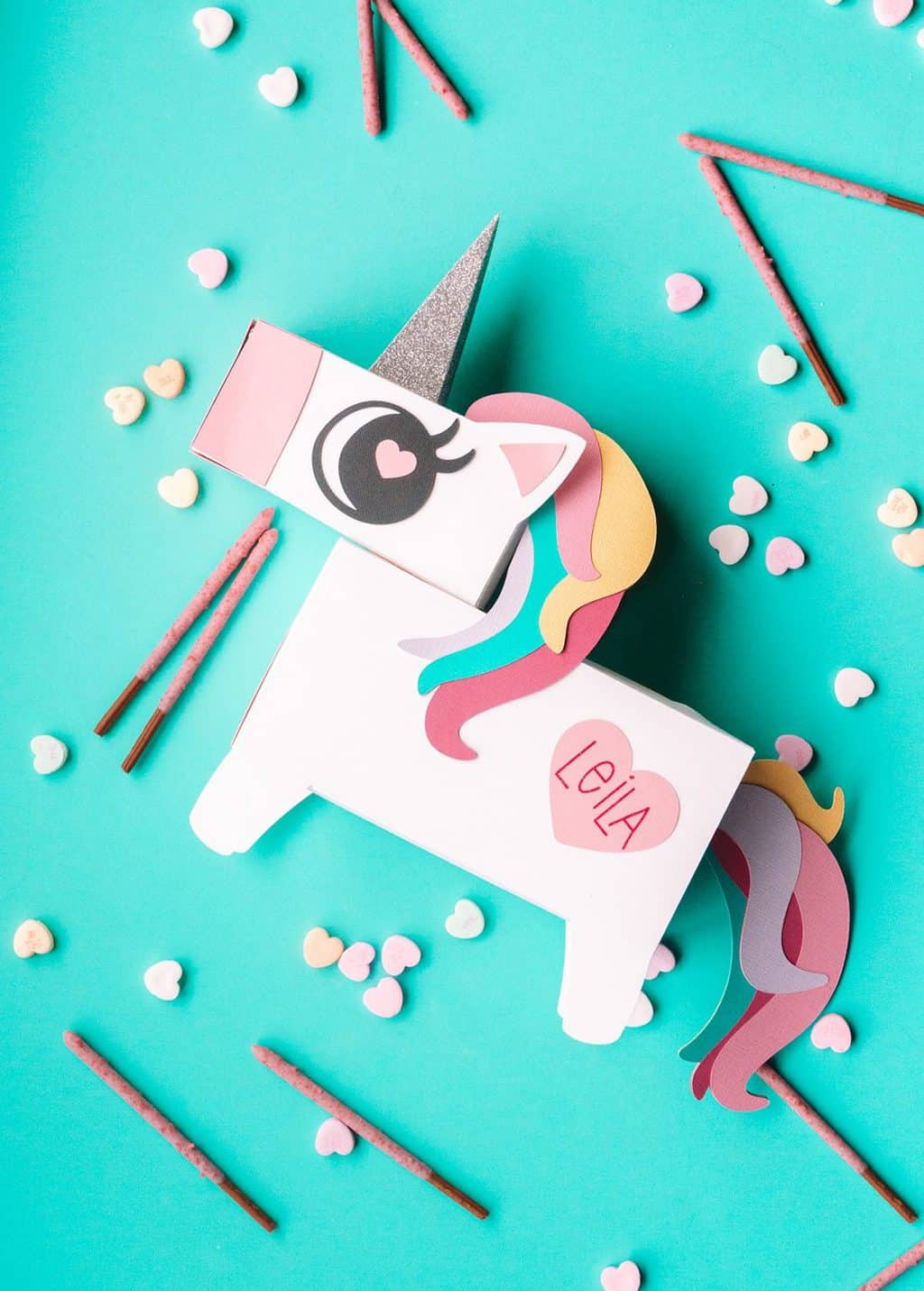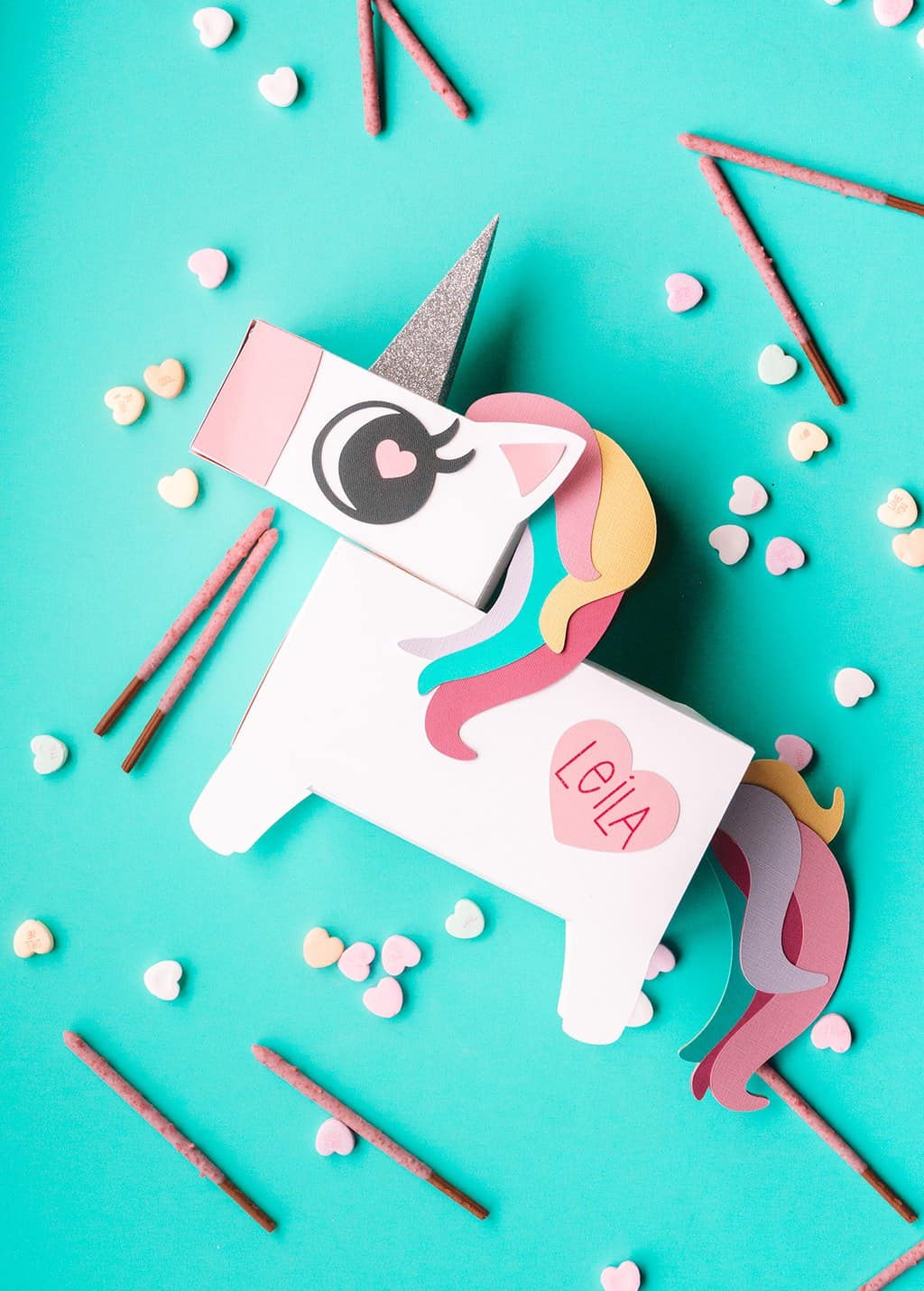 Create an easy unicorn valentine box using your Silhouette Cameo. The box is super cute and small, but you do have the option of increasing the size of the template in your software. The template is from Silhouette, but if you have a Cricut or any other electronic cutting machine, you can purchase the SVG from the Silhouette Online Store.
Lindsay has all the step-by-step instructions for you to follow on her blog: See Lindsay
Did you Know: The Silhouette Cameo 4 is out and comes in a range of sizes. Read our review of the Silhouette Cameo 4 here.
6. DIY Etched Glass Whiskey Tumbler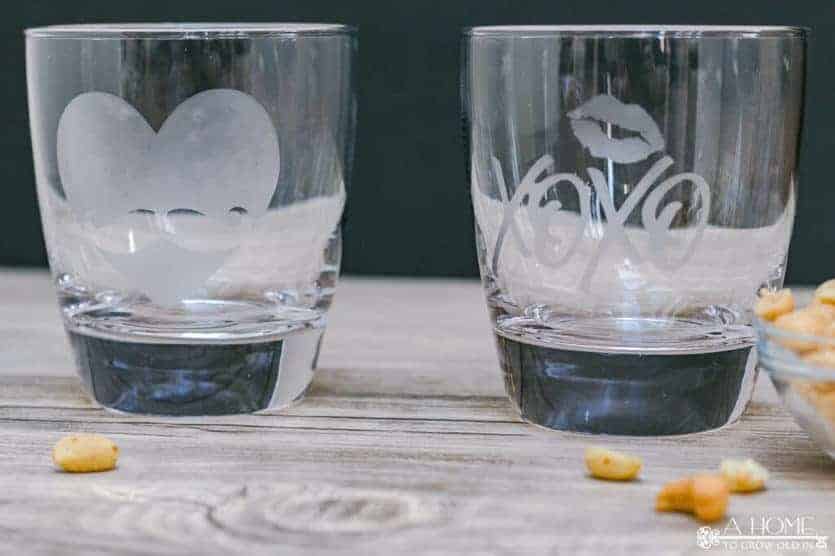 A perfect Valentine's Day gift for the favorite guy in your life, this DIY Etched Glass Whiskey Tumbler is super easy and inexpensive to make. All you need is your cutter, the free SVG file, some removable vinyl (and transfer tape) and some etching cream.
Hop over to grab the FREE SVG files that Robyn is sharing with her readers. You can also find all the instructions (with detailed photos) on her blog: A Home To Grow Old In.
7. Easy Valentine's Day Banner with Your Cricut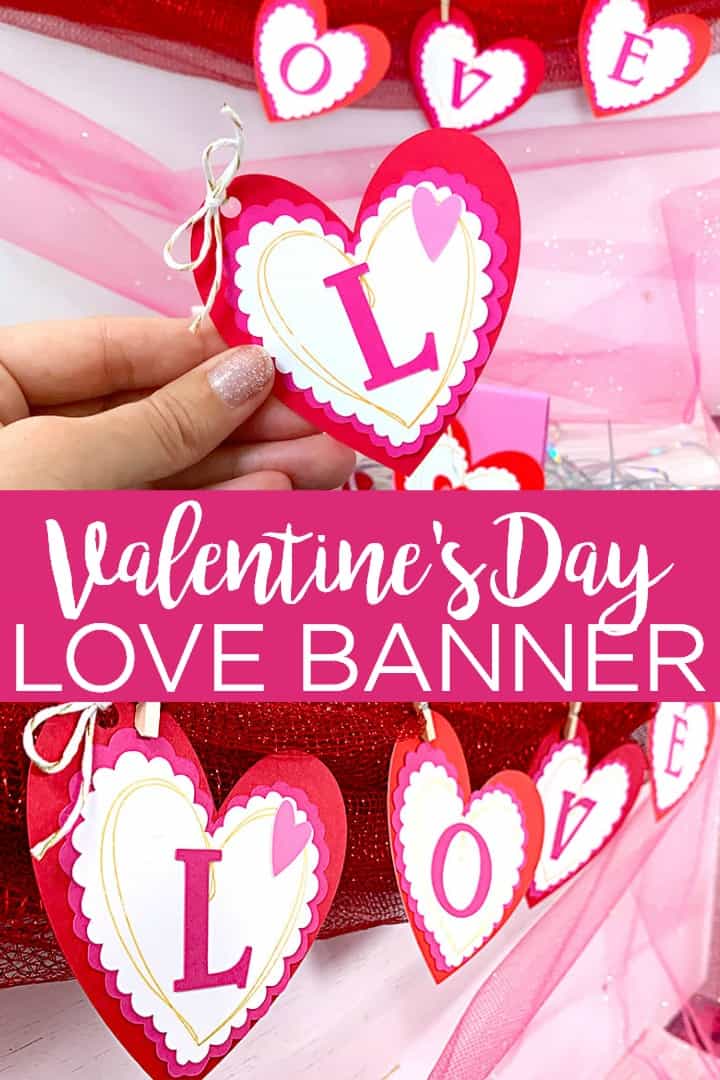 Use this project to create a pretty party backdrop or cut out all the pieces and set out for an interactive class party craft. You can mix and match materials and colors to create a Valentine's Day craft that pairs perfectly for your own needs.
See the full project instructions at the Country Chic Cottage.
8. Will You Be My Gnomie? T-Shirt Iron-On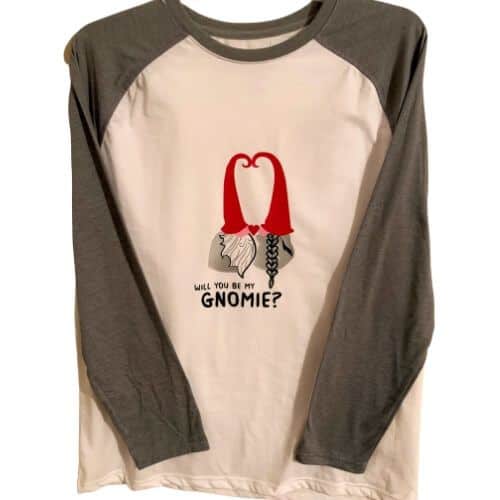 Gnomes are all the craze! Create this cute T-shirt with your cutting machine and get the file for free!
Hop over to Craft Room Time to grab the instructions and SVG file.
9. Easy Candy-Free Silhouette Valentine Craft for School Friends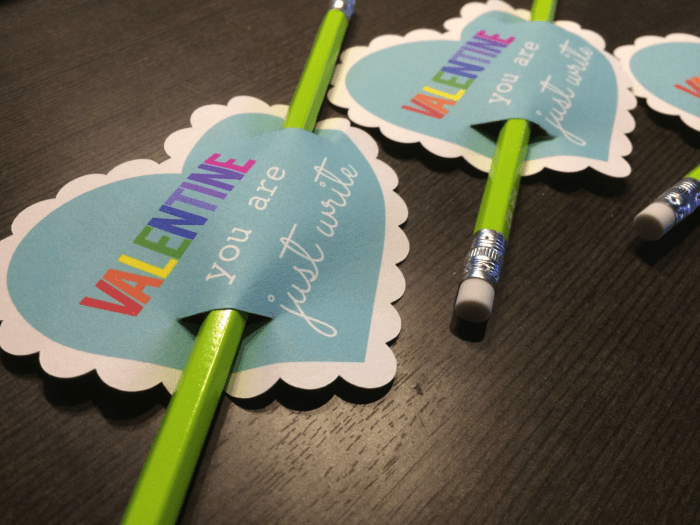 These valentines are fun for kids and are perfect for school or a group of kids. They don't have candy and instead, you can pick your favorite pencil to combine with this punny valentine. I really love this idea and it just looks so adorable too!
Grab the full tutorial from Really Are You Serious.
10. Freeze Pop Holders for Valentines Day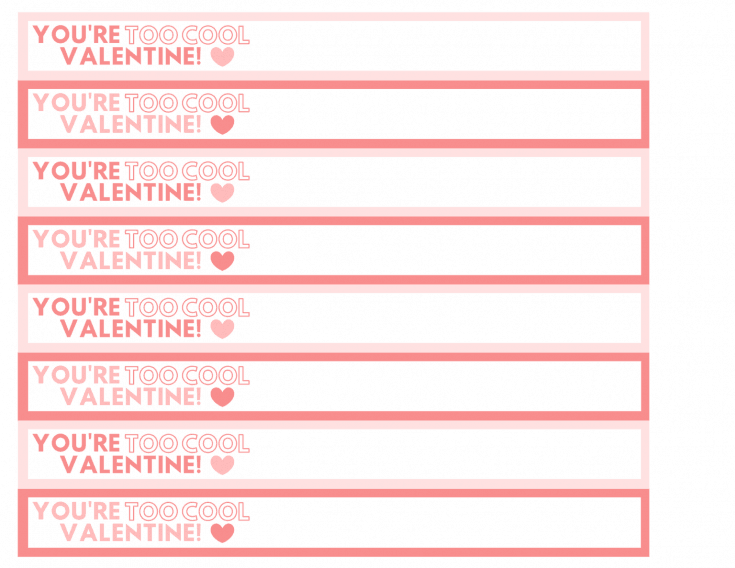 These personalized freeze pop holders are the perfect treat for class valentines. They are neoprene with everyday iron-on names. You can also download the free printable from Devon too.
Click here to grab more info about this project from U Ready, Teddy?.
11. DIY Vintage Kissing Booth Sign for Valentine's Day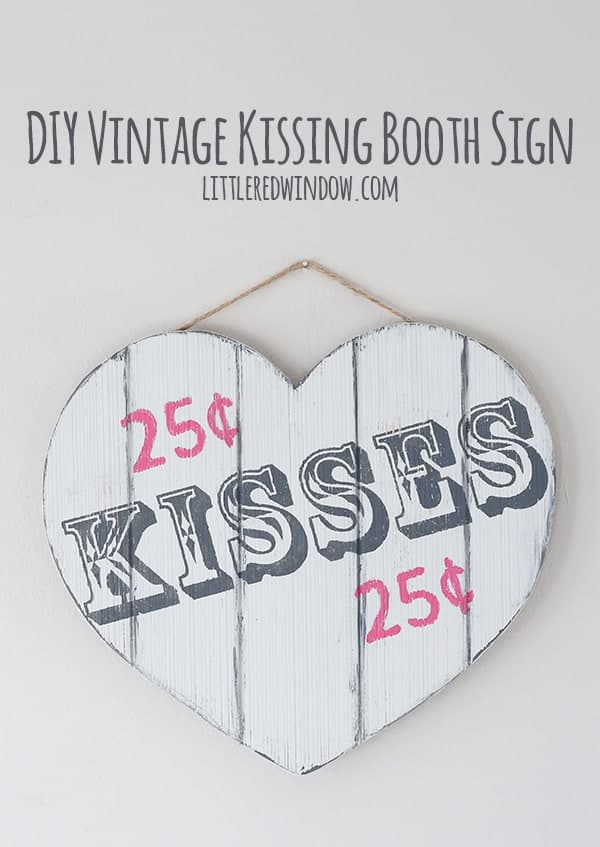 Make an adorable Vintage Kissing Booth Sign with an easy DIY vinyl stencil for Valentine's Day!
Visit Little Red Window to grab the detailed instructions.
12. Sweet Valentine Gift Jars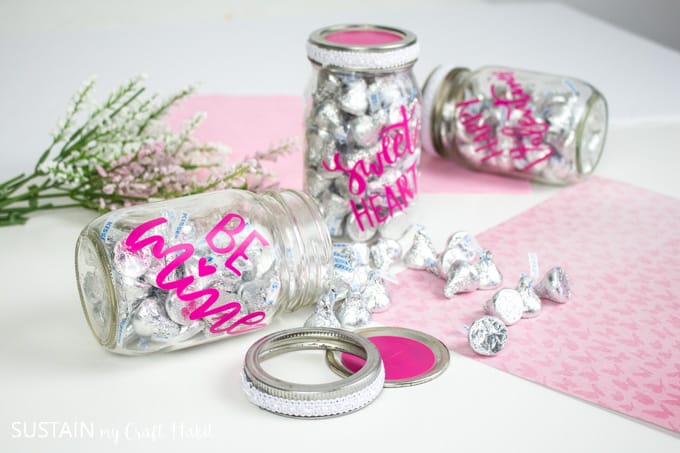 These valentines candy jars will definitely catch the eyes of your loved one(s) with the bright pink lettering against the shimmery silver wrappers of the chocolate kisses!
Sisters, Sonja & Jane, from Sustain My Craft Habit share the full step-by-step project instructions on their blog.
13. A Candy Flower Boquet for Valentine's Day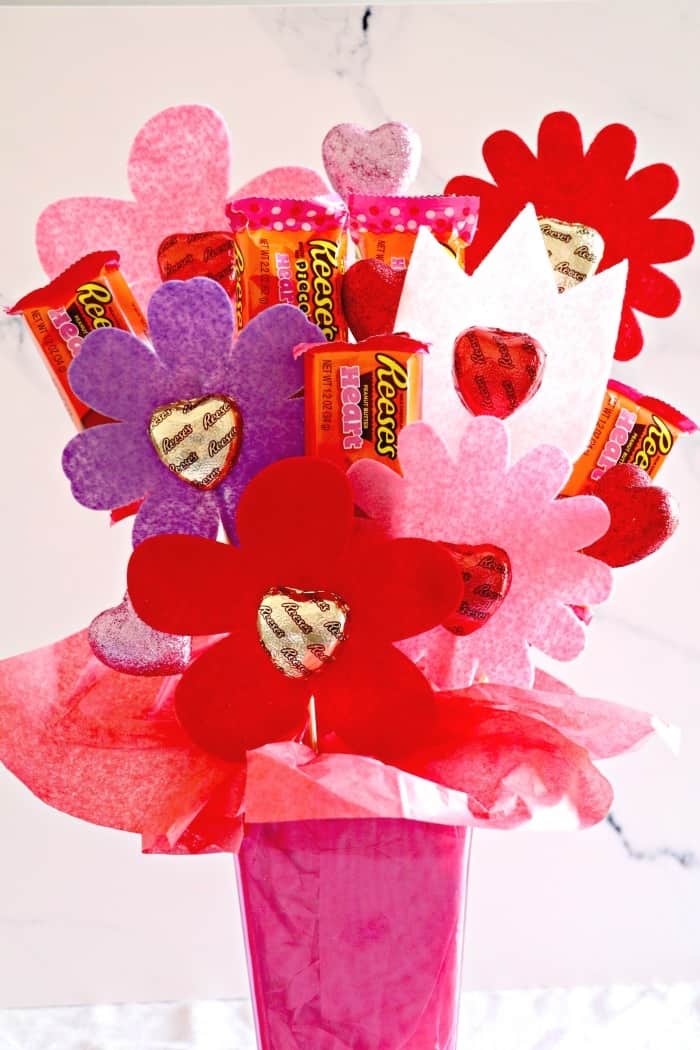 Everyone knows someone who's a serious chocolate lover. To win their heart this Valentine's day, why not make this super cute DIY Reeses candy flower bouquet!?
See the full project instructions from Jamie at The Denver Housewife.
14. Create Cute Puppy Love Popsicle Stick's for Valentine's Day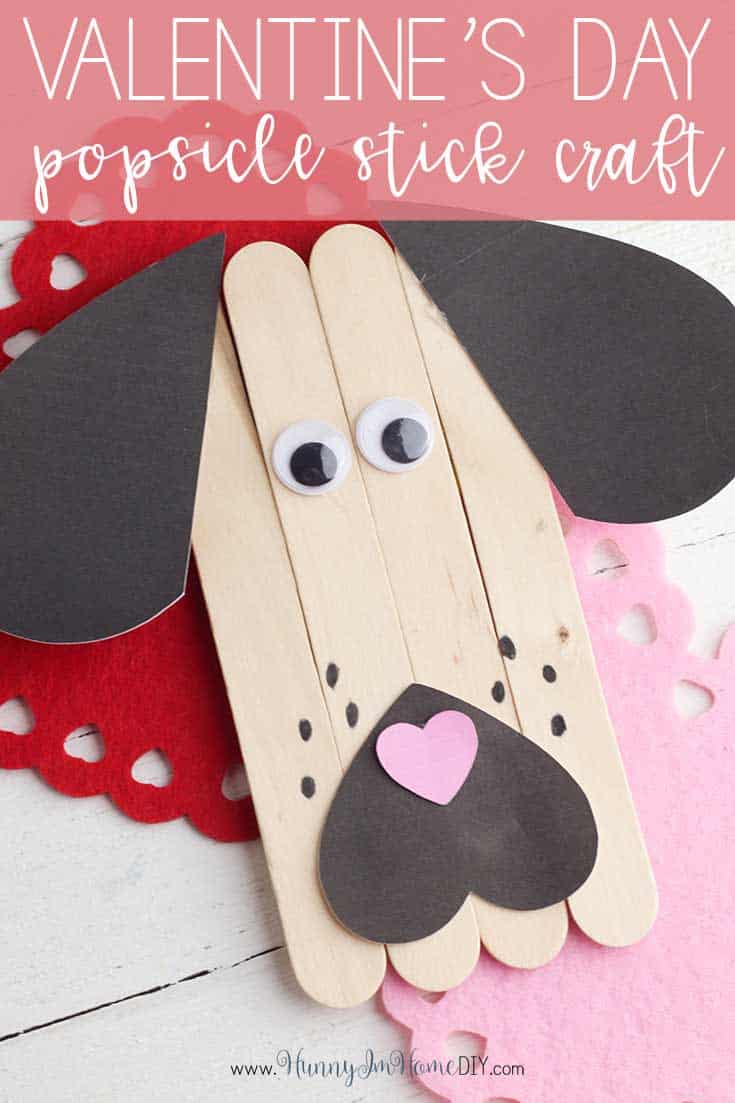 Your kids will get a kick out of this adorable puppy popsicle stick craft and you'll love how easy it is to make! This is a great Valentine craft that even the kids can do!
You can see just how to create these at Hunny I'm Home.
15. Printable Valentine Heart Glasses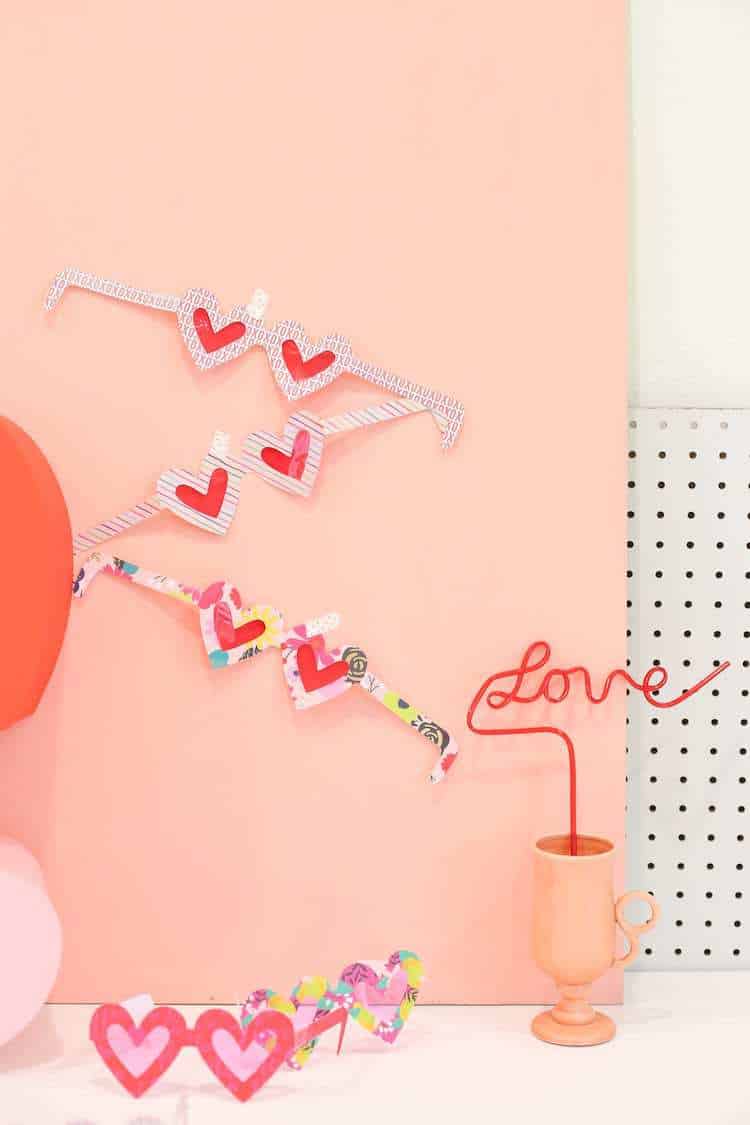 These hilariously adorable heart glasses will add fun, sweetness, and a touch of pizazz to your valentines day this year! (They're great for fun photo shoots, too)!
You can see how to create these on Lovely Indeed.
16. Personlized Glass Block (with lights)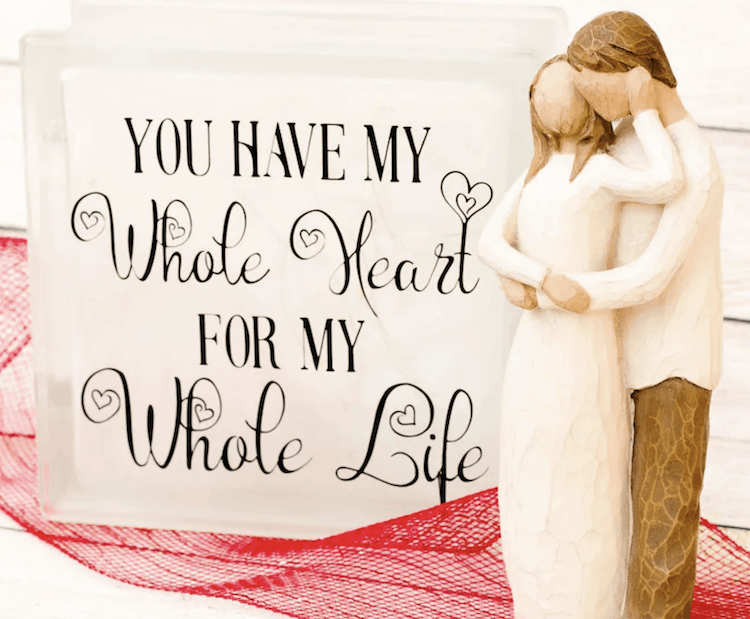 For a lovely and elegant gift, this glass block will melt your sweetie's heart in no time. Display it in a prominent place and they'll be reminded of your love every time they see it.
For the full step-by-step tutorial and free SVG file visit the tutorial by Amy of Leap of Faith Creating.
17. Personalized Valentine Dish Towels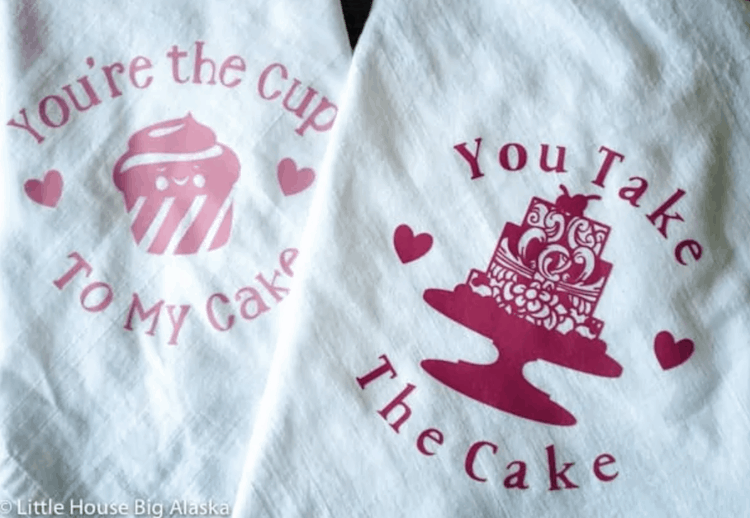 We're obsessing over how cute these valentines dish towels are! They're a perfect gift for the sweeties in your life who love to bake!
Get the steps and how to create your own from Little House Big Alaska.
18. Hugs & Kisses Coasters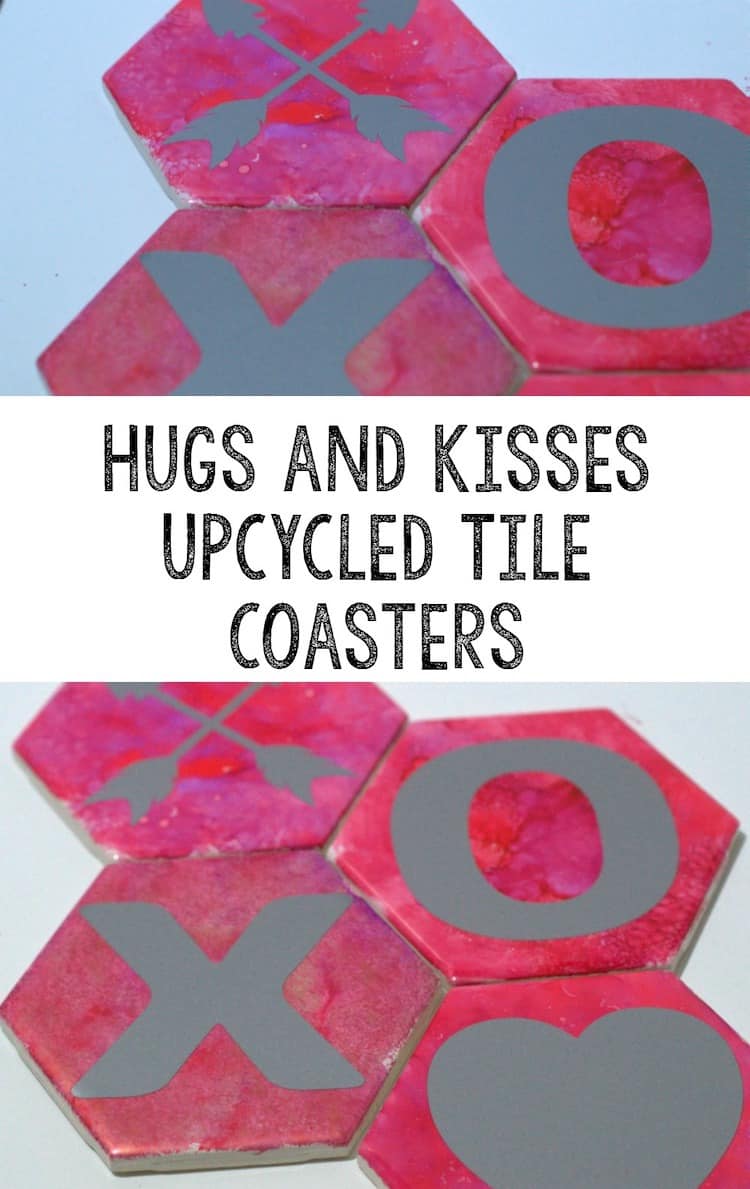 If your sweetie has a habit of absentmindedly setting cups on tables without coasters, these bright and sophisticated coasters might help save your table from water damage as well as remind your love that…you love them!
Visit How was Your Day by Greta to grab the detailed instructions.
We're loving all these love-inspired crafts! No matter which Valentines Day Cricut Projects you decide to make, the recipient(s) will feel so loved and special because of you!
And there you have our massive guide full of awesome Silhouette and Cricut Valentine ideas. We would love to know which of these crafts you might like to try out. Please leave us a comment below and tell us all about it.
Till next time,
Jolene xxx