The USCutter Titan 3 Vinyl Cutter is a top choice as a commercial machine in small businesses.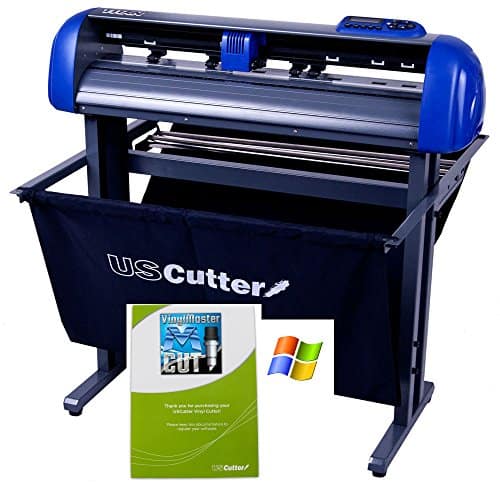 The Titan 3 cutter is brilliant for businesses that wish to work with applications such as signage, decals, lettering, and pinstriping.
This machine can whip up logos, modify signs, make custom text, create and draw shapes and edit images.  
It is a great buy for your starting machine in a commercial space.
Click here to check current prices for the USCutter Titan 3
Wondering whether the USCutter Titan3 Cutter is for you? Hopefully, our USCutter Titan 3 Vinyl Cutter Review will help answer that question for you.
USCutter Titan 3 Vinyl Cutter Review Rating
Find below our review rating of this great electronic commercial-grade cutting machine.
Features

Quality

Cutting Specs

User Experience

Value
Summary
The USCutter Titan 3 is a commercial machine that is perfect for small business use. The plotter can withstand rigorous daily use. Standout features include the optical eye for accurate and precise contour cutting, and its ability to handle intricate designs. At an affordable price-tag, this truly is a handy machine to have in your office or store!
Review of the Titan 3 Plotter
The USCutter vinyl plotters are fabulous machines for those who are chasing a starter commercial machine for their small business. We do prefer the Graphtec over the USCutters, but if you can't reach the higher price tag of the Graphtec cutters, then the USCutters are a great place to start.
If you do want to compare this machine against other machines, you might like to visit our detailed vinyl machine buyers guide.
Feature Summary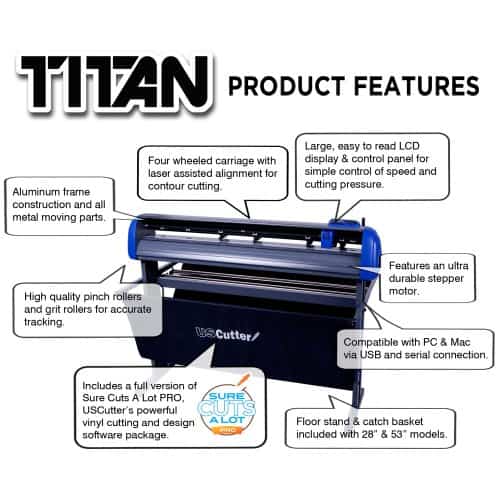 The Titan Vinyl Plotter uses ARMS (automatic registration mark sensor) for fast and accurate contour cutting. 

Uses an ultra-durable low-noise servo motor.

We love that you have total control over the speed and cutting force. This means that you can cut all sorts of material from adhesive vinyl, window film, hard paperboard, sandblast stencil, mask material and much more. 

The cutter has a very easy-to-use LCD interface.

The machine is perfect for daily rigorous use. It has an aluminum frame and uses metal parts.

I can apply a maximum pressure of

 750 g.

It has a max speed of

37 in/s
It has 3 pinch rollers.
The machine includes Sure Cuts a Lot PRO (Mac) or VinylMaster Cut for PC users.
So What Comes in the Box?
28″ USCutter TITAN 3 Professional Sign Vinyl Cutter w/ARMS Contour Cut
Stand & Material Basket
Software: Sure Cuts a Lot PRO (Mac) or VinylMaster Cut (PC)
What are the Cutting Dimensions?
It comes in three brilliant sizes!  The 15″ Titan 3 Desktop Cutter, the 28″ Titan Vinyl Cutter and the 68″ Vinyl Cutter for those who wish to work on a large scale basis.
This specific model is the 28″ model, which means that the cutter can cut up to 24″ in width and up to 300″ in length. It has a feed width of up to 28″.
The Pros & Cons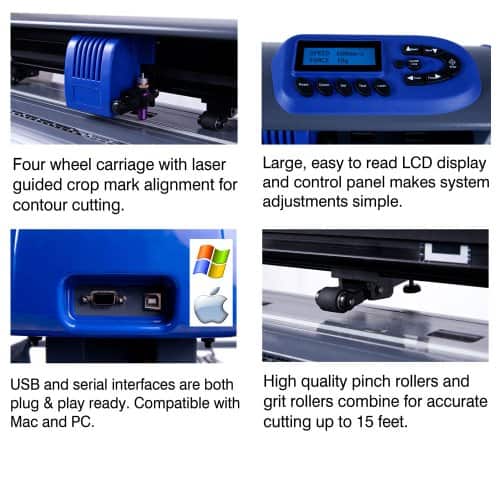 Vacuum hold down for extra grip 

Accurate automatic contour cutting 

LCD Screen that is easy to use and read

The digital readout makes for accurate and precise settings

3 TITAN blades included

FREE Lifetime Phone Support
Tricky to set up as they don't include a manual

Problems with trying to use the machine outside of USA
Verdict
The Titan 3 is a professional commercial machine that has been created to withstand rigorous daily use. We love some of the advanced features, such as the optical eye for accurate and precise contour cutting. The cutter can handle intricate designs, this truly is a handy machine to have in your office or store!
You can read through all the positive reviews on Amazon here, or simply click the button below to grab your cutter now.