The USCutter MH Series Vinyl Cutter is a popular vinyl decal printing machine for those who love to work with signage in a small business environment.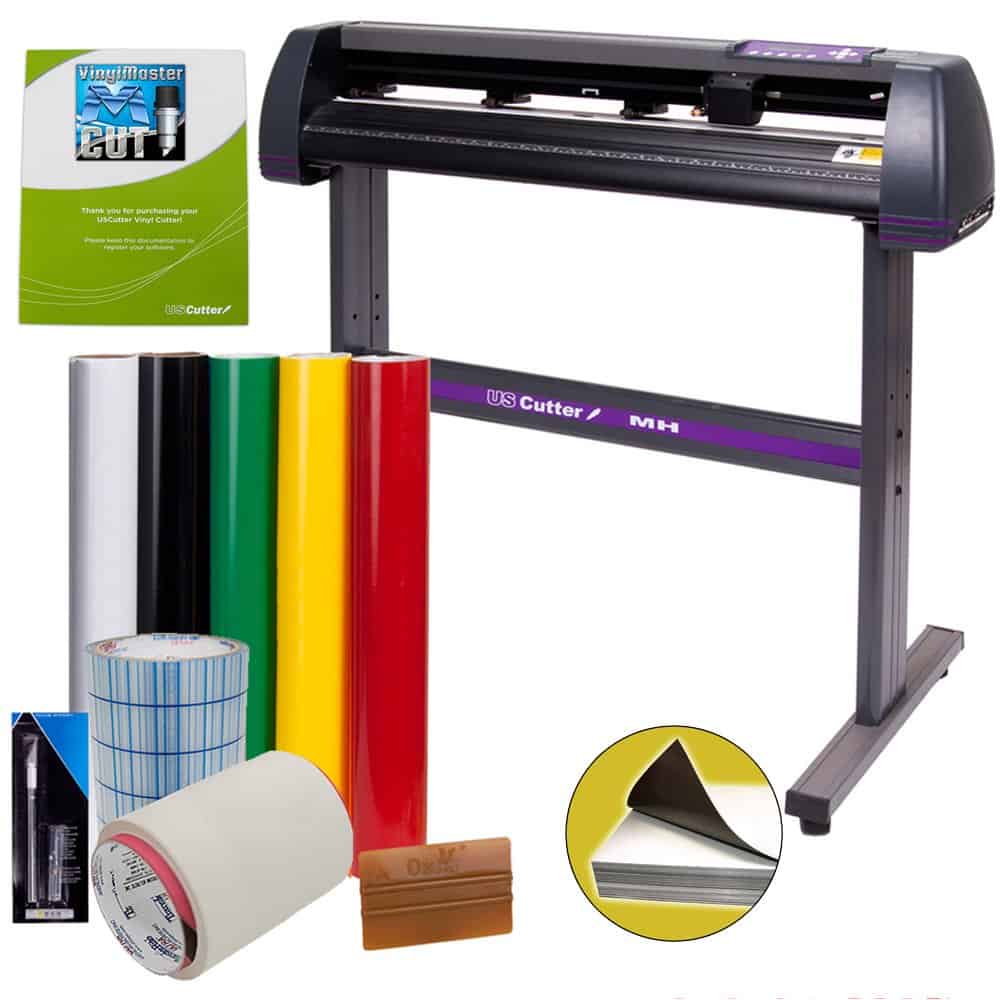 Click here to check current prices for the USCutter MH 34″ Bundle
Wondering whether the USCutter MH 34″ Bundle is for you? Hopefully, our USCutter Vinyl Cutter Review will help answer that question for you.
USCutter 34″ Vinyl Cutter Bundle Review Rating
Find below our review rating of this great electronic commercial-grade cutting machine.
Features

Quality

Cutting Specs

User Experience

Value
Summary
The Cutting Plotter MH871 MK2 is a really well-priced semi-commercial cutter. With this machine, you can start up a signage business for an incredibly low investment.  Important to remember though that this cutter is best for simple designs. Once you start offering more intricate designs, we highly recommend that you upgrade the machine.
Pros:
Delivers quality cuts on simple designs. 3 Blades are included. FREE Lifetime Phone Support. Great price. Includes VinylMaster Cut. Has a large cutting surface.
Cons:
Only suitable for PC users. Noisy. The machine struggles with more complex intricate designs. The cutter can't do contour cuts
Review of the USCutter MH 34″ Bundle
The USCutter vinyl plotters are fabulous machines for those who are chasing a starter commercial machine for their small business. We do prefer the Graphtec over the USCutters, but if you can't reach the higher price tag of the Graphtec cutters, then the USCutters are a great place to start and this bundle will make it even easier to start making those profits!
If you do want to compare this machine against other machines, you might like to visit our detailed buyers guide about the best vinyl machine.
Feature Summary
The US Cutter MH 871 MK2 is another popular machine that straddles the line between being a personal machine and a small businesses vinyl making machine.
What we love most about the MKH 871 vinyl cutter machine is how cheap it is. It is only a small investment to start-up your own small business if you decide to purchase this cutter.
This cutter can handle t-shirt work, decals, as well as signage. It has a lovely and large workspace and can cut up to 31″ x 8 feet long.
Included in the Vinyl Cutter USCutter MH 34in bundle deal you will receive vinyl rolls, transfer tapes, magnetic blanks, a knife, squeegee, chart, access to the USCutter forum and lifetime phone support.
Specs
Blade Types: Standard blade compatible
Command sets: DM-PL HP/GL automatic identification
Motor Type: Stepper
Speed: 39 in/s
Force: 350 g
Maximum Cut Width: 30.63 in
Max Cutting Length: 96 in (8 feet)
Max Pressure: 350 g
Max Speed: 39 in/s
Contour Cutting: No
OS Compatibility: Windows
Size: 28 in
So What Comes in the Box?
1x 34″ USCutter MH Series Vinyl Cutter Plotter with Stand

1x VinylMaster Cut – Design & Cut Software

5x rolls Greenstar vinyl, each 24″ x 5 ft. Colors: Black, White, Real Red, Green, Canary Yellow (Please read note below)

2x sheets 12″ x 24″ magnetic blanks

1x TransferRite Ultra Clear 1310G (Grid)Application Transfer Tape – 6″ x 10yd

1x TransferRite Ultra 592U Paper Application Tape, High Tack – 6″ x 10yd

3x Vinyl Cutting Blades

1x Hobby knife

1x Squeegee
What can it Cut?
This model can cut all standard vinyl, heat transfer vinyl, paper, craft paper, cardstock & paint mask.
The Pros & Cons
Delivers quality cuts on simple designs

3 Blades are included

FREE Lifetime Phone Support

Incredibly cheap price for the bundle deal

Works with VinylMaster Cut and other popular software (like Sure Cuts Alot, Flexi, SignBlaser and SignCut Productivity Pro)

Has a large cutting surface