If you are looking for the best sublimation heat press machine, then the Promo Heat Press is for you.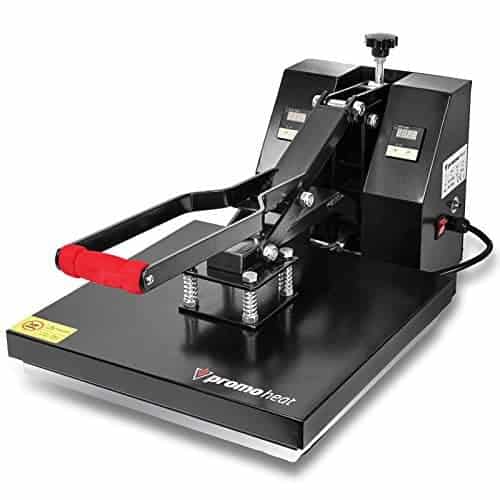 The 15 x 15″ Clamshell Promo Heat Sublimation Heat Press Machine is a super popular machine due to its versatility in combination with a budget-friendly price tag. It is a brilliant machine for personal home use, as it offers all the advanced features you require, but with an easy-to-use interface.
We love using this machine for vinyl projects as well as for t-shirt transfers. You can compare this machine against other favorites in our best heat press machine for small business list.
Check prices on the 15 x 15″ Promo Heat Press Machine
Let's dive into all the fabulous features and specs in our Promo Heat Press Review.
Promo Heat Press Review Rating
Find below our review rating of the popular Promo 15 x 15″ heat press.
Summary
The Promo Heat 15 x 15″ press machine is a fabulous machine if you are chasing a press that can handle both thin and thick materials. Its compact and portable design makes it a great machine for home use.  We love all the advanced features and with the affordable price tag, this machine can be hard to resist.
Pros:
The press is compact and portable. Time and temperature can be set on the LCD screens. The fully-adjustable pressure adjustment knob allows you to work with thicker materials. It has a massive heat range of up to 750ºF. We love the super affordable price tag.
Cons:
It can be hard to find the machine in stock. The machine does not ship worldwide.
Detailed Review of the Promo Heat Press 15×15″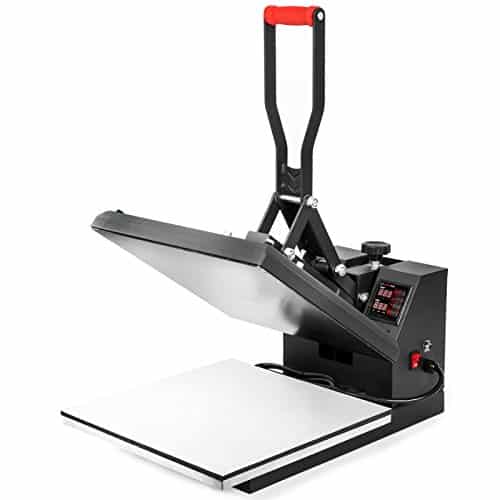 The Promo Heat Press 15×15″ Machine is a great machine for those who wish to work with t-shirts and even thicker materials. It has a full-range pressure adjustment knob where you adjust for a range of thickness in material.
The machine is a clamshell type press, which is great for those who have limited space. Whilst clamshells tend to have a reputation for being poor pressure distributors, we have found that the adjustable multi-spring balancer on the Promo Press allows for even heat pressure to be applied across your garment!
Again, a great benefit of this machine is that it has been designed to work with thicker materials, such as hoodies, bags and more. In order to heat press on thicker designs, you need to purchase a machine that offers an increased heat range.
In comparison to the Power Press machine that offers temperature of up to 500ºF, this Promo Heat press can heat up to a whopping 750ºF!
Let's dive right into the features and specs to have a closer look at this press.
–
Features & Specs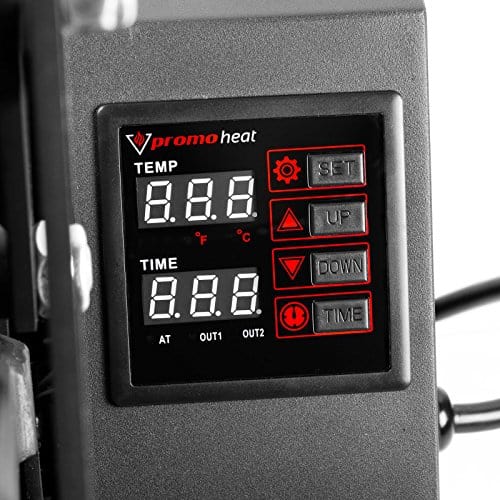 Here is a quick look at the main features and specifications of the Promo press.
The Pros & Cons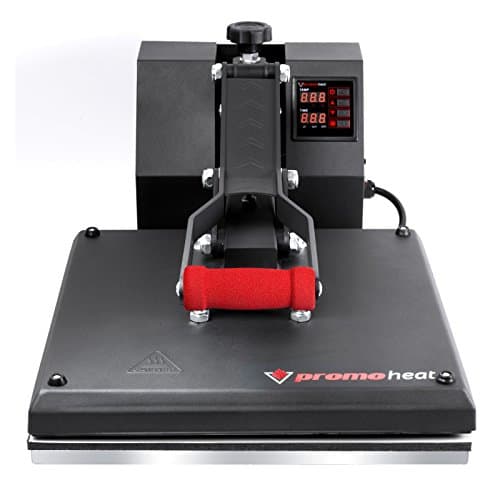 Below you will find our Promo Heat Press review; focusing on the pros and cons of this machine together with information on who this machine would be perfect for.
The Pros
Compact and Portable

Preset desired temperature on the timer
Fully-adjustable pressure adjustment knob
Digital LCD temperature control
Highly-adjustable multi-spring balancer
Heat range of up to 750ºF
Large 15 x 15″ working space
Teflon-coated element
Budget-Friendly Price
The Cons
Product availability is pretty sporadic

Not available for shipping in some countries
The Verdict
The Promo vinyl heat press machine is a top-notch machine if you are after a machine for personal use. This machine is perfect for those who enjoy working with a range of materials. We love all the advanced features and with the affordable price tag, this machine can be hard to resist.
If you can find this top rated heat press machine in stock, we suggest you snap it up ASAP as they tend to sell out like hot cakes.