As a newbie to the Cricut craft space, it can be completely and totally overwhelming to try and figure out what to purchase with your machine. The machine is already pricey enough so you don't want to buy goodies that you won't need to go with it. So today I want to focus on whether the Cricut Maker Essentials Bundle would be a good buy …. or not.
Let's start off by looking at what you would get included in your bundle. We will talk about who the bundle would be best suited for, as well as the pros and cons of the bundle itself.
What is in the Cricut Maker Essentials Bundle
Let's have a look at what is included in the Cricut Maker + Essentials Bundle. You might also like to check out the new Cricut Maker 3 bundles to buy here.
So, of course, you would get everything that is included in the Cricut Maker box. Not sure what will be in the box? Here is a quick outline.
What is in the Cricut Maker Box?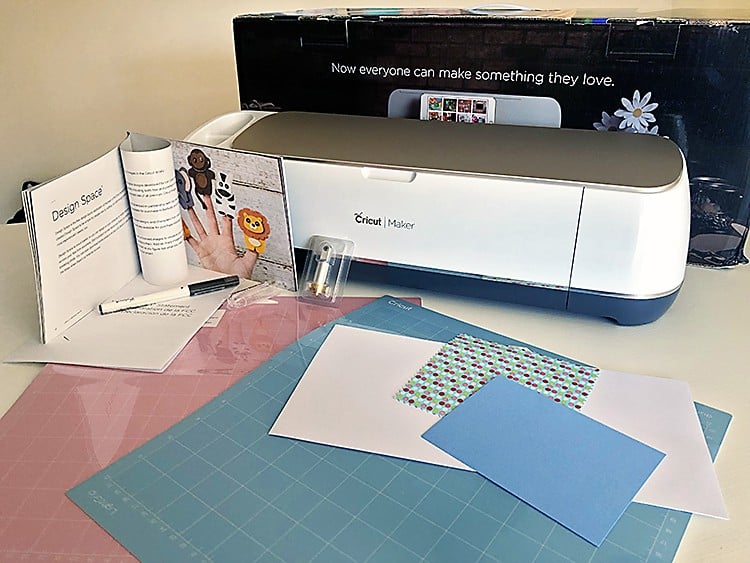 Cricut Maker® machine
Rotary Blade + Drive Housing
Premium Fine-Point Blade + Housing
Fine Point Pen, Black
FabricGrip™ Mat, 12″ x 12″ (30.5 cm x 30.5 cm)
LightGrip Mat, 12″ x 12″ (30.5 cm x 30.5 cm)
Welcome Book
USB cable
Power adapter
Free trial membership to Cricut Access™ (for new subscribers)
50 free ready-to-make projects, including 25 sewing patterns
Materials for a practice project
What Additional Items are Included in this Collection?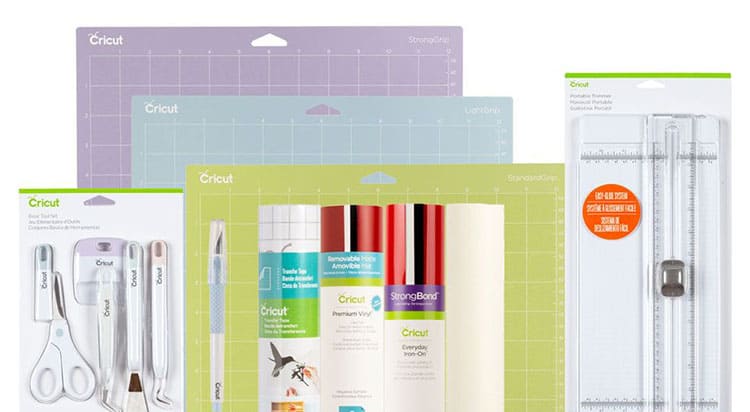 And here is a list of the ADDITIONAL items that you will get if you purchase this bundle. I will also include the value of these items if you were to purchase them separately, this will help us to get an overall idea of whether this bundle would actually save us money.
Everyday Iron-On Sampler, Elegance (value $14.99)
Premium Vinyl Sampler Removable, Elegance (value $11.50)
Iron-On Protective Sheet (value $6.99)
Transfer Tape ($7.99)
True Control Knife, Blue (value $13.99)
Cutting Mat Variety Pack, 12″ x 12″ 3 pk (value $40.99)
Tools Basic Set ($26.99)
Portable Trimmer ($16.99)
Who is this Bundle Best Suited for?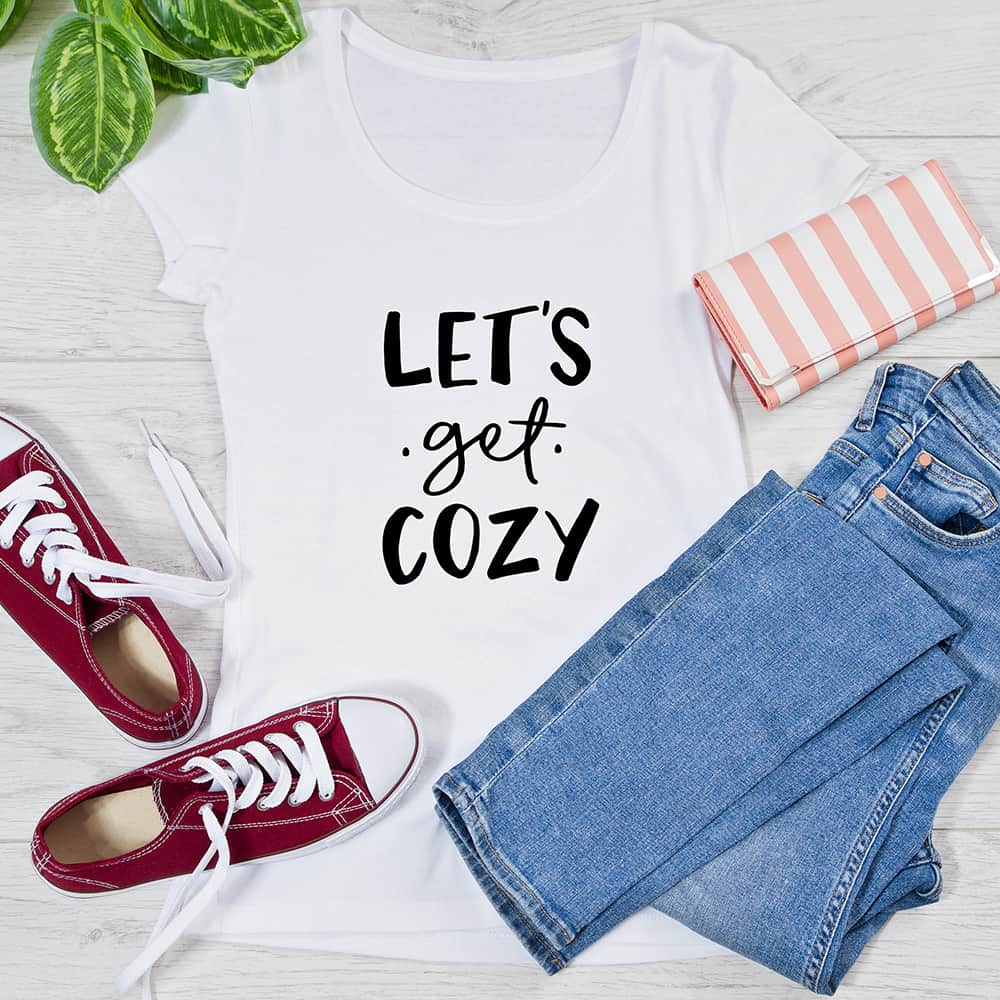 Pros and Cons
Let's talk about the good and the bad of this bundle.
Pros
It includes the basic toolset which is one of the best toolsets to have if you are just starting out with vinyl crafting.  It contains some weeding tools which will help you to get rid of excess vinyl around your designs quickly. It also contains a scraper which is essential for adhesive vinyl projects.
It includes a variety mat pack. You will get the FabricGrip (pink) mat and the LightGrip (blue) mat with your machine. BUT you need the green StandardGrip mat for vinyl crafts. The green mat is the one I use 80% of the time so it is an important mat to have. You will also get the purple mat and a replacement pink mat.
The Iron-On sampler contains 3 sheets 12" x 12" (30 cm x 30.5 cm) in Bright Red, White, Black. It is great that they included some HTV, but these are not my colors and doesn't really excite me – but maybe they would be exciting to you?
Transfer Tape is an essential item when you are working with adhesive vinyl, so this is a great addition to the bundle.
Cons
I don't consider the trimmer an essential 'get-started' tool for vinyl crafters. It is however a great tool to have if you want to work with cardstock and paper.
The True Control Knife is a fabulous tool to have, but again I don't consider it essential and I think more materials would have been more beneficial in this bundle instead.
I have never used an Iron-On Protective Sheet. I use good old kitchen baking paper. I have been crafting for many many years so I don't understand why they decided to include this in the bundle. Handy to have – yeah for sure but maybe not really necessary.
The adhesive vinyl they included here is removable. Most of the projects I do is with permanent vinyl … in actual fact I can't remember the last time I used removable vinyl. Not sure why they made the decision to include this … maybe just to reduce down stock of an item that nobody purchases? The sampler includes 3 sheets (3 colors, 1 each) 12″ x 24″ (30.5 cm x 61 cm) in Red, White, Black.
My Verdict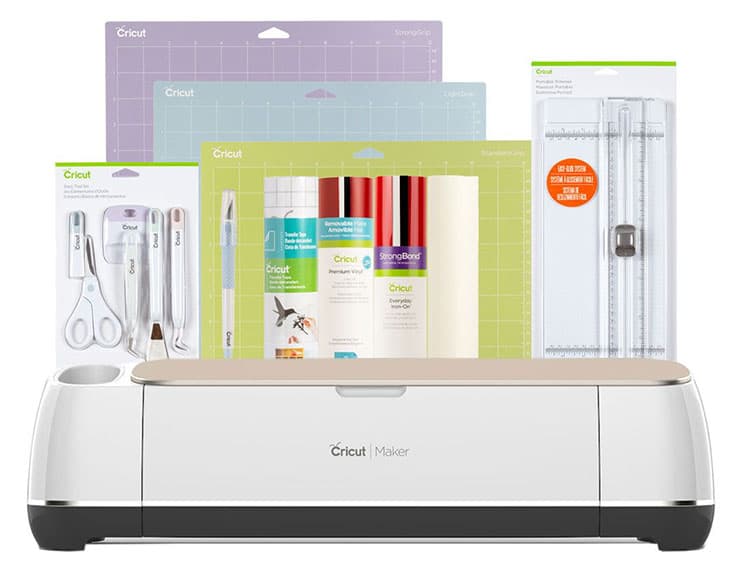 At the time of writing, the Cricut Maker Essentials Bundle was on sale for $399.99. According to Cricut it is valued at $540.41. Now it is important to note that this bundle is ALWAYS on sale, the price might be slightly different but it will never be full price.
Now considering you can usually pick up a Cricut Maker for around $369, this bundle is only costing you $30 more, but here is the whopper – you will get $140 additional items included in your bundle. So is the bundle worth the dollars? Oh HELL YES!!! This is the cheapest Cricut Maker Bundle on the market, so if this is all you can afford, it is definitely a great bundle to buy value-wise.
The thing is though, I think the bundle could have contained a much better range of goodies. This bundle doesn't fill me with goosebumps and excitement, but maybe it does for you? I would definitely recommend that if you can stretch your dollars that you invest in the Cricut Maker Everything Bundle instead. You can also find our comparison post of all the current Cricut Maker bundle sale deals here.
Want to go ahead and snap up this bundle? This bundle is only available from Cricut. Click here to check out the latest sales price and to pop it in your trolley.