What makes the perfect craft kit for adults? How do you select the best craft kit?
Indulging in a creative activity is something that most of us tend to forego as we take on the responsibilities of being an adult.
Spending time to create something using art and craft is undoubtedly one of the most rewarding and relaxing experiences.
If you are looking for the perfect supplies to get started, we are here to help!
Craft kits come in all shapes and sizes, serve a wide array of purposes, and can be used to create beautiful objects.
With thousands of craft kits available in the market, choosing the right option for your needs can be a challenge.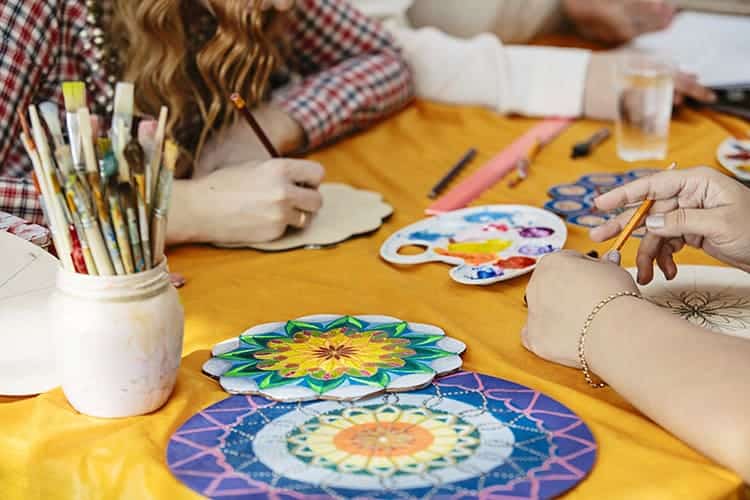 We have shortlisted 17 of the best at-home art kits for adults that cater to a variety of genres of craft products.
Each of these recommendations is a perfect DIY kit that you should be able to use conveniently to get optimal results.
Best Craft Kits for Adults To Buy Right Now
Here is our list of the 17 best DIY craft kits These all make great gifts for Christmas, birthdays, or special occasions such as Mother's Day.
For arty ladies who love to draw, you can also check out this list of gifts for artists who draw here.
1. Woolbuddy Needle Felting Starter Kit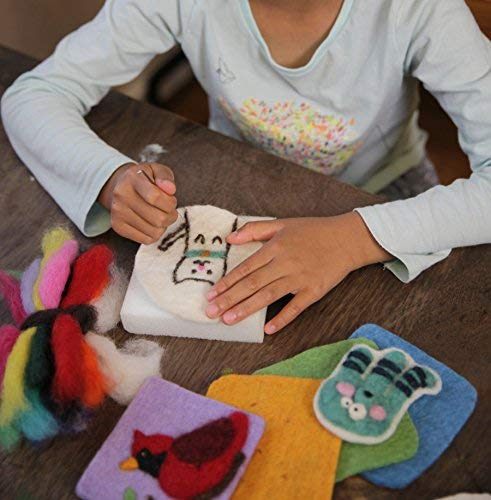 The first recommendation we have is the Needle Felting Starter Kit offered by Woolbuddy.
It is a great craft kit for kids and adults alike. The kit includes six felting needles, a foam mat work surface, 16 colored wool, white wool, three thimbles, and systematic photo instructions.
Toys have gone through a complete transformation over the last couple of decades – from basic board games to outdoor toys to gaming consoles. Felt toys, however, have always been a part of kids' toy collections.
If you want to handcraft felt toys for kids, this starter kit from Woolbuddy is an excellent choice.
>>> Click here to see more info and to check the price on this kit
2. Craft Crush Felt Succulents Kit
Indoor décor has transformed in recent years. One of the most exciting and beautiful home décor items is a succulent plant.
Succulents can be placed in traditional pots or framed and hung up on walls. Succulents undeniably offer a fresh, natural look and feel to otherwise contemporary homes.
Craft Crush offers the Felt Succulents Kit that lets you make 18 beautiful succulents from felt.
You do not have to be a gardener to be able to make these succulents, and the kit comes with easy-to-follow instructions.
You can buy a bowl, moss, and pebbles to create a terrarium – do not limit yourself to the frame in the kit.
>>> Click here to see more info and to check the price on this kit
3. Craft Crush DIY Bracelet Craft Kit Blush
One of the most commonly used accessories is a bracelet. Whether you are a man or a woman and irrespective of your age, you can comfortably wear a bracelet.
Bracelets come in all kinds of styles and materials, having a wide price range. What if you could make bracelets instead of buying them?
Craft Crush offers an excellent DIY Bracelet Kit that allows you to create eight different bracelets.
You will not have to buy any additional supplies to create these bracelets. We especially liked this kit because it enables you to practice and hone your crafting skills like wrapping and beading.
>>> Click here to see more info and to check the price on this kit
4. Craft Crush Thread Bowls Kit
Craft Crush's Thread Bowls Kit is one of our favorite DIY craft kits, primarily due to its simplicity and effectiveness.
You can create three beautiful and colorful bowls of different sizes using this kit. You can use these bowls to keep small ornaments like earrings or use them only for decoration.
We recommend the Thread Bowls Kit because it includes everything you need to create the bowls – three bowl forms in different sizes, one ounce of water-based glue, three adhesive sheets, and 17 different colors of cotton thread (31.5 m).
You can use any combination of yarns to give each of these bowls a unique look.
>>> Click here to see more info and to check the price on this kit
5. Craft Crush Paper Bowls Kit
If thread bowls make a great craft kit, why should paper bowls be left out?
Craft Crush offers a Paper Bowl kit that allows you to create three bowls of different sizes – 4.75 inches, 6 inches, and 8 inches. The kit includes simple instructions that will enable you to make these three bowls easily.
Since these bowls use paper as the primary material, you cannot eat out of them. Use these bowls for décor purposes or to hold your keys, baubles, jewelry, or smartphone.
The kit includes everything you need – reusable bowl forms, paper pieces, and glue – so you do not have to buy anything else.
>>> Click here to see more info and to check the price on this kit
6. Ultimate DIY Lip Balm Kit
Have you ever wanted to make your lip balm kit? If yes, Balm Diggity's Lip Balm DIY Kit is a perfect choice.
The package includes 12 plastic tubes with caps, six stir sticks, two pipettes, 15 labels, an instruction sheet, three ounces of 100% natural melt and pour balm base, and four Lorann oils – dram Bavarian cream, dram orange, dram cherry, and dram peppermint flavoring.
The kit is made in the USA and can be used to create 12 lip balms. Each tube can hold 0.15 ounce of balm base. We especially liked the thoughtful inclusion of three ounces of balm base to provide for any spillage or wastage.
>>> Click here to see more info and to check the price on this kit
7. Walnut Hollow Deluxe Woodburning Kit
While some craft forms are elementary and do not require a lot of skill, there are others that do.
Pyrography or wood burning is one such art that requires skill and consistent practice. If you are looking for a craft kit to start your wood-burning journey, Walnut Hollow's Deluxe Woodburning Kit is an excellent option.
The set is specially designed for beginners and comes with detailed instructions. The set includes a reusable pen, four tips, two wood plaques, six pencils, eight patterns, two alphabets, and one stand & transfer paper.
The simple instructions help you with using different tips for subtle shading and bold outlines.
>>> Click here to see more info and to check the price on this kit
8. Mandala Diamond Art Coasters Kits
The coasters are made of thick acrylic and are very sturdy. The edge is smooth, you don't need to worry about hurting your skin when making it.
The numbers and symbols are clear and easy to read. The coaster has a strong stickiness, which makes the diamond not easy to fall off.
The kit includes 6 pcs mandala coasters, 6 pcs cork pads, 1 pcs coaster holder, 1 pcs diamond painting pen, 1 pcs diamond tray, 1 pcs glue clay and 12 bags of diamonds.
It is not only entertainment, but also cultivate our patience and concentration. Create these coasters with your family members or friends to have a fun time together. Put them on your desk to make your room more colorful and beautiful.
>>> Click here to see more info and to check the price on this kit
9. Craft-Tastic – Yarn Giraffes Kit
Craft-tastic offers the Yarn Giraffes Kit that lets you make two cute giraffes. These colorful, yarn-wrapped giraffes serve as unique home décor items.
The kit includes detailed instructions, 30 pieces of adhesive, 18 cardboard pieces, and 108 yards of acrylic yarn.
It is a comprehensive set of supplies, and you will not have to buy anything else to create these two giraffes.
You start by sticking the cardboard pieces together, which creates a 12.75-inch and a 9.75-inch tall giraffe. The fun process of wrapping colorful yarn comes next.
These giraffes can be conveniently displayed on your countertop or cabinet shelf.
>>> Click here to see more info and to check the price on this kit
10. 4M Easy-To-Do Crochet Kit
Crocheting is a fun art form not only for kids but also for adults. If you want to learn crocheting, get your hands on 4M's Easy-To-Do Crochet Kit.
It is a perfect set for beginners. The kit includes two crochet hooks, seven colors of yarn, and one plastic needle. It also includes a 14-page detailed instruction book.
You can create any three of the following items using this crochet kit – coaster, belt, placemat, or handbag.
You can easily combine this kit with other craft kits from 4M to create more crochets. Although 4M recommends this kit for ages 8 to 15, it is never too late to learn the art of crocheting.
You can also learn how to crochet with Youtube videos. You can find plenty of crochet patterns, such as this crochet belt pattern, from websites to get you started.
>>> Click here to see more info and to check the price on this kit
11. Woolbuddy Needle Felting Owl Kit
Handmade felt toys are the favorites of many kids. Creating felt toys gets ridiculously easy with Woolbuddy's Needle Felting Owl Kit.
You can use this kit to create two owl-shaped felt toys, each measuring about two inches. The owl-felt toys are made from wool, making them incredibly soft and squishy yet durable.
The kit includes a pack of colored wool, two felting needles, and easy-to-follow instructions. The wool included in this kit is premium-grade and hypoallergenic, making these toys 100% safe for your children.
You can easily attach these owl-felt toys to your backpack, hang them from the rearview mirror in your car, and even use them as cat toys.
>>> Click here to see more info and to check the price on this kit
12. Wooden Music Box Kit
A music box is one of the most exciting toys for kids. You wind up a music box, and it plays a melodious tune.
Is it possible to create a music box? ROBOTIME brings to you the Bunny Hand-Cranked DIY Music Box that allows you to create a robot-bunny wooden box that plays "Little Bunny Foo Foo."
It can take between two to five hours to assemble it, and it measures 5.8" x 5.2" x 8.2". When you wind it up, its gears, hands, and legs move as the music plays.
The kit includes detailed diagrammatic instructions, sandpaper, white glue, a winder, a music box, 221 die-cut plywood pieces in four sheets, and some assorted dowels.
>>> Click here to see more info and to check the price on this kit
13. Craft Crush Dream Catcher Kit
While people hold contradicting opinions about whether dream catchers work, nobody argues about whether they look beautiful in a home.
They enhance the look of any room and Craft Crush offers an excellent DIY Dream Catcher Kit to let you create one. This kit allows you to create a 36-inch dream catcher.
The kit consists of all the supplies you need for making the dream catcher – one hoop, seven feathers, 14.5 yards of acrylic yarn, 13 yards of cotton thread, 24" x 24" of craft paper, and 40 yards of fabric strip.
The dream catcher has sculptural aesthetics and creamy color, adding to its elegance.
>>> Click here to see more info and to check the price on this kit
14. Craft-Tastic – String Art Kit
String art is effortless yet beautiful. Craft-tastic provides a String Art Kit that lets you create three cool projects.
The kit includes three 8.5-inch pre-printed durable foam canvases, 170 pins, and 60 yards of colorful thread. The three projects you can create are a peace sign, a heart, and the word "Hi."
This kit is comprehensive, and you will not have to buy any other arts and crafts supplies to create the three projects. You can easily hang the completed canvases to display your art skills to others.
The kit comes with detailed instructions to guide you through all the pinning and stringing.
>>> Click here to see more info and to check the price on this kit
15. Loopdeloom Weaving Craft Kit
Loopdeloom is an award-winning weaving craft kit. The craft kit includes 120 yards of yarn and one spinning peg loom.
The spinning peg design simplifies and quickens the weaving process. Although the manufacturer recommends Loopdeloom for ages eight and above, we found it to be a great DIY craft kit for adults as well.
You get a lot of flexibility and creativity with Loopdeloom. You can either use a single loom to create anything seven inches wide or connect multiple looms to create larger things like blankets.
We especially liked the versatile application of this craft kit as it can be used to create cell phone cases, scarves, skirts, baskets, headbands, and so much more.
>>> Click here to see more info and to check the price on this kit
16. Sunflower String Art Kit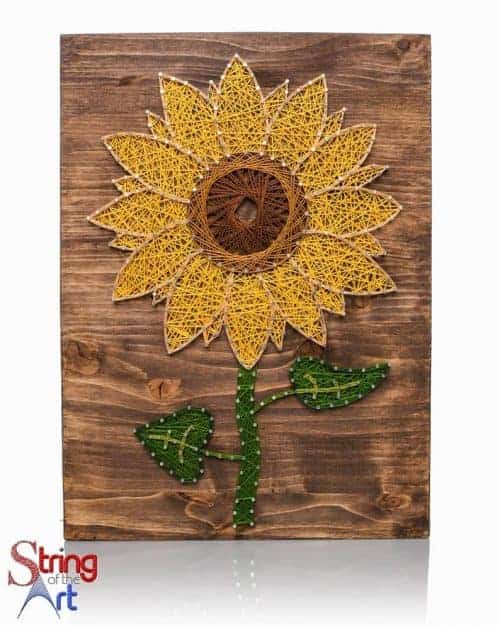 We absolutely love this gorgeous DIY kit for adults from Etsy. And looking by the reviews, so do lots of other adult crafters.
This gorgeous Sunflower String Art Kit contains
Pattern Template,
Embroidery Floss,
Instructions,
Sawtooth Hanger,
Wire Nails,
Prepared 16 inch by 12 inch Wooden Board
This kit is aimed at both novice and experienced crafters. You can easily whip up this gorgeous picture in under a day. What a joyful art piece to add to the wall.
>>> Click here to see more info and to check the price on this kit
17. Acrylic Pour Kit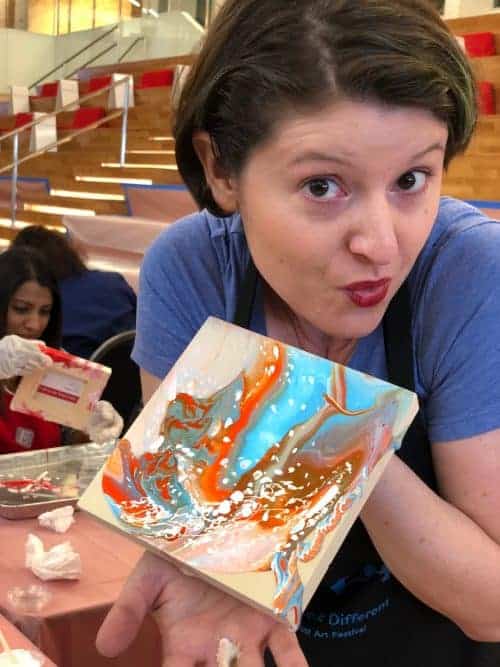 Another super fabulous and really fun kit is the Acrylic Pour Kit. You can grab this one from Etsy. This kit will allow the creator to learn how to make beautiful abstract acrylic pour paintings.
What comes in the box:
A container to catch your painting drips
3 Pre-mixed Acrylic Paint Colors
Mediums
1 6inx6in high-quality solid wood cradled panel to paint on
Pair of gloves
Mixing and pouring cups
Stir sticks
1 Bottle of pre-mixed gloss varnish
Instructions
We especially love that you can customize the kit by choosing your own 3 colors!
>>> Click here to see more info and to check the price on this kit
Buyers' Guide – Best Adults Craft Kits
Buying adult craft sets gets fairly straightforward with these tips:
One of the first things to consider is the price of the craft kit. You do not want to be spending a lot unless you are buying a premium kit and you are an experienced DIY-craftsman. It is always advisable to go for starter kits to practice and hone your craft skills without burning a hole in your wallet.
No matter what you are trying to create, you want to buy a craft kit that is comprehensive and includes everything you might need. It can be expensive, time-taking and frustrating to purchase additional supplies to finish a craft project. A craft kit must be complete!
Your craft kit should come with easy-to-follow instructions. If you want to try a new craft form, having access to detailed and diagrammatic steps will help significantly. Before buying your next craft kit, ensure that it has in-depth instructions.
Of course, another fantastic gift idea is to send your loved one off on a craft retreat.
Whether you're a beginner or an experienced crafter, a retreat specifically for crafting can help reignite your creative fire.
Craft retreats often offer specialized classes and workshops, access to top-of-the-line tools and materials, and best of all – time away from the stresses of daily life to get back in touch with your creative side.
Plus, many craft retreats provide meals, snacks, and lodging so you don't have to worry about anything but crafting.
Not sure what crafts you might be making on a retreat? Here is a list of women's retreat crafts for you to browse through.
---
Final Thoughts on

Adult Craft Kits
These 17 DIY kits for adults to make are some of the best because of their ease of use, affordability, and artistic value.
If you are looking for an optimal DIY craft kit, one of our recommendations is most likely to fit the bill.
Based on what you want to create, pick a craft kit that meets your needs without exceeding your budget.
Use our informative best DIY kits buyers' guide as a safety check to see that the kit you are considering is worth your money.
Further Reading: