Christmas time is coming up so fast! And we can't help but feel all crafty and creative as the excitement of the season settles in.
In preparation for the big day, our design team member Jolene wants to share these 3 super sweet DIY Christmas card ideas to make at home.
The beauty of cards is that you can easily use up your scrap pieces of patterned papers, those small pieces of ribbons, and the random embellishments that never seem to have a place on a scrapbook layout.
We aren't going to write up some step-by-step instructions for these ones as I think they are easy to replicate without the detailed steps, but let us know if you get stuck and need some more specific instructions on how to recreate them.
Christmas Card Ideas to Make
Here are our DIY Christmas card ideas to get those creative juices flowing.
Supply List:
Red Textured Cardstock
Patterned Paper
Patterned Journaling Sheets
Glitter Paper (or patterned paper with glitter circles)
White Pen
Silver Marker Pen
Ribbon
Pearls
Letter Stickers
Scissors
Trimmer (See our guide on paper cutter reviews here)
Large Corner Rounder
Glue
3D Foam Dots
Optional: Scrapbook Die Cutting Machine and scallop circle die
Optional: Rub-ons
1. Merry Christmas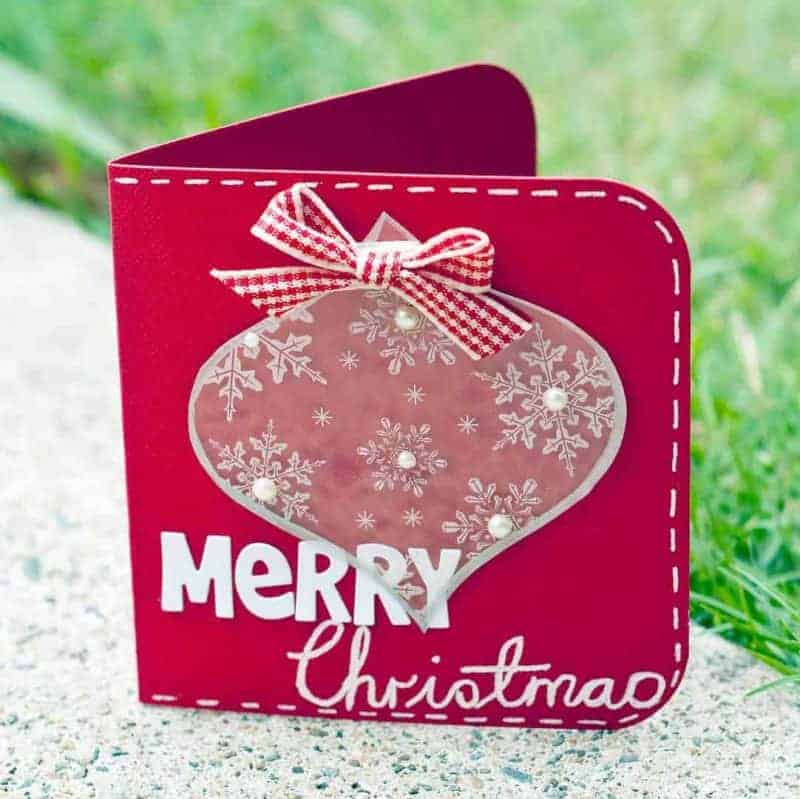 For our first Christmas card DIY ideas that we are sharing today, we have a super sweet, but pretty simple little bauble card.
The bauble itself is actually created out of a really old acetate journalling book (by Making Memories). Something that was lying around unused. I was inspired by the snowflake design and simply cut my acetate in the shape of a bauble.
I added some outline to the bauble with a silver paint pen and finished it off with some pretty pearl accents. I found a short piece of ribbon that I tied off like a bow.
The word "Happy" is from letter stickers. Again they are pretty old and these are from the Paper Trunk brand.
And finally, Jolene used a white Sukaru pen to create the border around the edge of the card, and she used it to handwrite the word Christmas (mostly because she didn't have the right stickers left to actually do it out of stickers).
If you aren't a fan of handwriting, you might be able to find the word "Christmas" on a rub-on sheet and use that instead.
2. Happy Holidays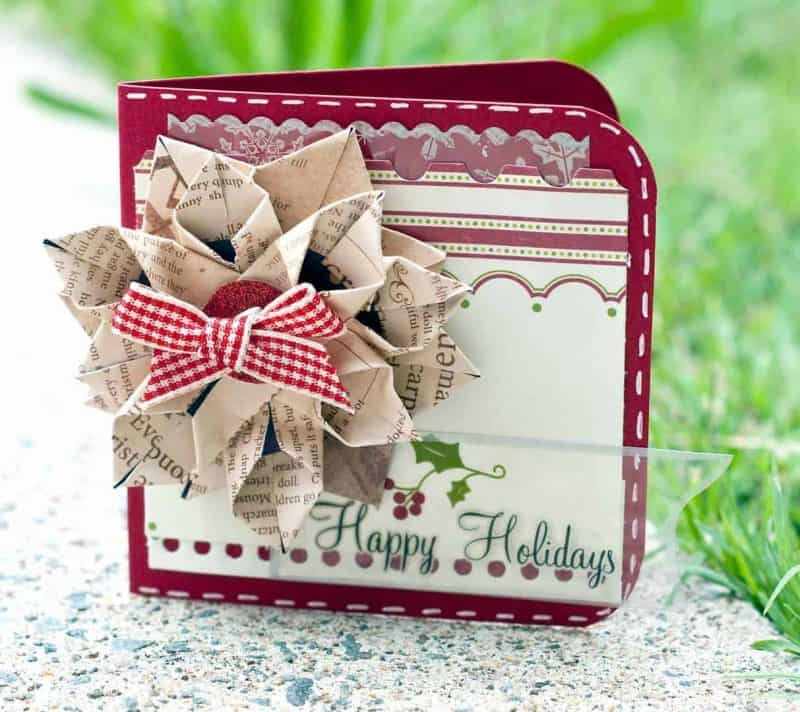 For the next card in our set of DIY Xmas card ideas, we have one that has a beautiful pop with that oversized paper flower.
You can easily whip up this flower with some scrap paper – Jolene actually used some old book paper here to create her statement piece.
Let us know if you want us to share the instructions on how to create this stunning flower.
The rest of the card is layered with patterned paper and acetate journaling. And the flower is topped off with a glitter circle and another ribbon bow.
3. Xmas Joy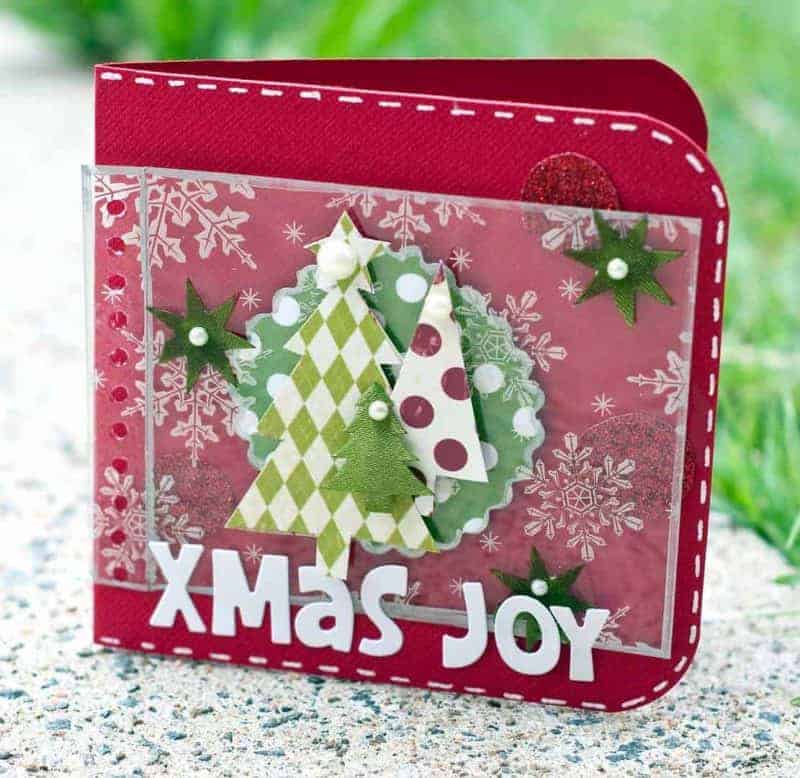 Ready to make your own Christmas cards now? Here is one last idea.
Jolene found a really old piece of patterned paper that had Christmas trees on it. So she cut them out and layered them up with some 3D tape.
Use your die cutting machine and a scallop circle die to cut a circle out of patterned paper to add behind your acetate. More silver and white penwork for detail work and some pearls – because who doesn't love pearls! Easy Peasy!
Need some Christmas title ideas for your cards? Grab some from our super list of creative Christmas Titles here. After some inspiration for your next layout? Grab a round-up of 10 festive Christmas scrapbook pages here.
Christmas card making doesn't have to be hard.

You can easily whip up some custom Christmas cards with some simple and clean designs.

Once you have a design that you like, you can quickly create Christmas cards in similar designs but with small changes – maybe use bling instead of pearls, change up the cardstock or the color of the ribbon.
And lastly, don't forget that if you have a die cutting machine you can also create your own die cuts or your own stickers to use as well. If you love making cards, you will also love our tutorial on how to create cards with die cuts.
So now it is your turn to create your own Christmas card and we would love to see them. Please leave us a comment below.