Even for a professional crafter and designer, choosing between the Explore Air 2 and the Cameo 3 may lead to a decision based solely on brand preference. The two vinyl and die-cutting machines look very similar on paper to most people.
But, once you put everything side by side and compare, it slowly becomes clear that each machine has its own targeted audience.
Check out this direct comparison between two of the best craft cutting machine manufacturers and their flagship machines to find out which one is right for you, whether you're a hobbyist or a professional in need of an upgrade.
* Please note, that the Silhouette Cameo 4 is out now. The Cameo 3 is still a fabulous buy, but you might want to compare the Cameo 4 vs the Explore Air 2.
Cricut Explore Air vs. Silhouette Cameo
Before starting the direct comparison, an overview of the pros and cons of each machine is necessary in order to put things into perspective.
Cricut Explore Air 2 Pros and Cons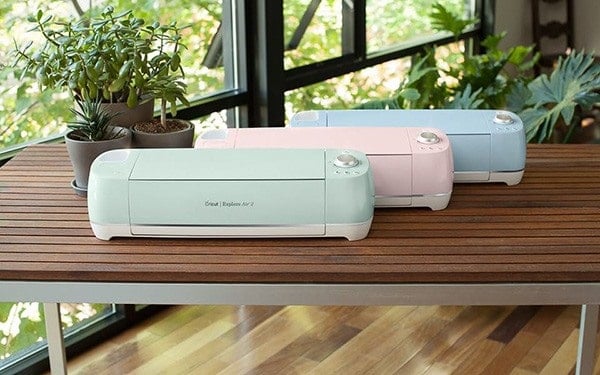 Find below both the positives and the negatives of the popular Explore Air 2 machine.
Pros
Fast cutter
Bluetooth
Improved precision
Compatible with over 100 materials
Smart Set Dial
Dual carriage
5"x23.5" cutting size
Tools storage
Intuitive user-friendly software
Available in multiple colors
Cons
Basic software
Small cutting size
Software not compatible with Android devices
Loud
Silhouette Cameo 3 Pros and Cons

Find below both the positives and the negatives of the popular Cameo 3 machine.
Pros
Good software for advanced users
Compatible with over 100 materials
Audio alerts
Silhouette AutoBlade
12"x10' cutting size
Bluetooth
Tools storage
Consistent cutting ability
Dual carriage
Line guides
Software compatible with iOS and Android devices
Cons
Above-average precision
Less cutting power
Complex software
Overview of Features
Now that you know what each machine has to offer in both high and low lights, it's time to take a look at the important features from each one and see how they compare.
Ease of Use
One of the biggest issues with any craft cutting machine is its ease of use and software support. Generally speaking, these tools rarely come with software as advanced and as professional as a CorelDraw or Adobe Illustrator.
That being said, the software that you get is included in the cost of the machine so you may save a little right there. When discussing Silhouette Cameo 3 vs. Cricut Air 2 from a software standpoint, there are two noticeable differences.
The Cameo 3 has Silhouette's advanced software design tool with a huge library of images (available on a monthly subscription). The software can be used for design adjustments as well as to create designs from scratch.
The Cricut Explore Air 2 comes with a rather basic app which may limit your design creativity. This means that you'll need other software along the lines of an Illustrator to create designs.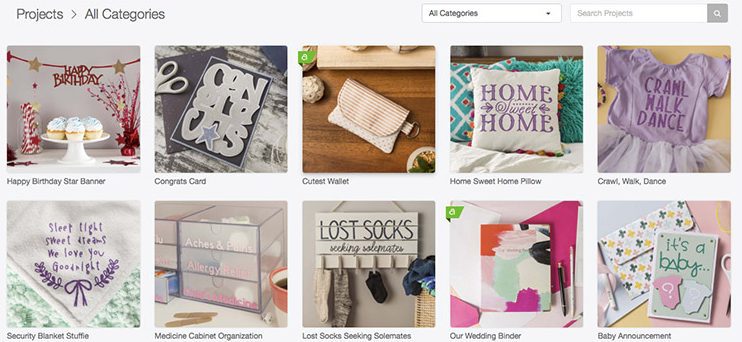 However, if you're at the start of your journey, the more user-friendly interface of the Cricut Design Space may prove easier than having to deal with the steeper learning curve of the Silhouette Studio.
On the other hand, the Cameo 3 has a very intuitive touchscreen. The machine itself is super easy to use even by beginners. The new AutoBlade can automatically calibrate blade settings for the fine details and specific material used.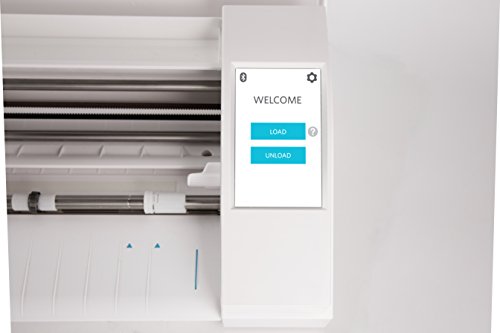 This leaves less room for user error and saves time on tinkering with cutting depths.
The Air 2 is not far behind though. Along with its beginner-friendly software, the machine's interface is also simple. The main highlight is the Smart Set Dial feature (the equivalent of the Silhouette AutoBlade) which makes automatic calibrations for common materials such as paper, cardstock, and vinyl as well as 80 other materials.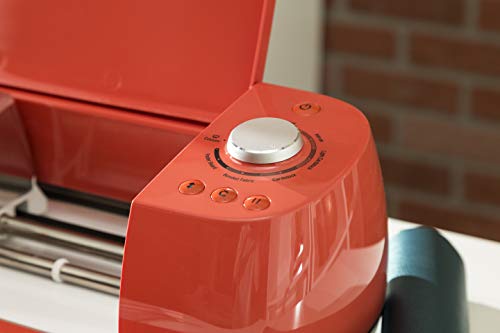 Preset programs are available for a variety of materials. Of course, this doesn't mean that you can't customize the blade settings further. You can do so with either machine.
Bluetooth is enabled on both cutting machines. This means that you can set up your home workshop however you like as long as you have a device that can connect to the machines. It can help you keep a clutter-free desk.
However, this is where the Cameo 3 might get a slight advantage in the eyes of some users. Not all users prefer using something other than a laptop, PC or Mac, when working on their designs.
Unlike the Cricut Design Space app, which is iOS only, Silhouette Studio is available for both iOS and Android phones and tablets.
So, who wins in the battle of ease of use? – The Explore Air 2 is definitely easier to wrap your head around from both a hardware and software standpoint. If you don't need Android compatibility, then the ease of use is not even up for debate.
Cutting Performance
Ease of use is one thing, but most artists and designers are probably interested in the cutting performance of each machine. At the end of the day, if you really need a specific vinyl cutter to make money on your designs, you will eventually learn how it works. So let's start with the Cameo 3.
The machine features dual carriage.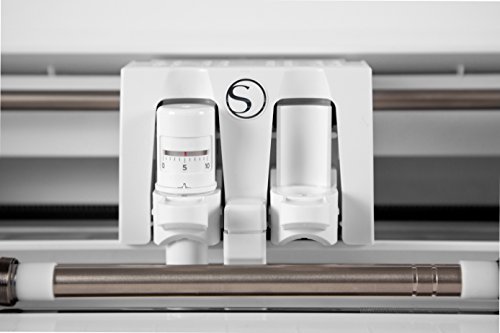 It's not the fastest cutter but it is fairly precise as long as you stick to less detailed designs, or else the edges might not be as smooth. The machine supports over 100 materials which means that the monetization potential is through the roof and only limited by material availability and your own creativity.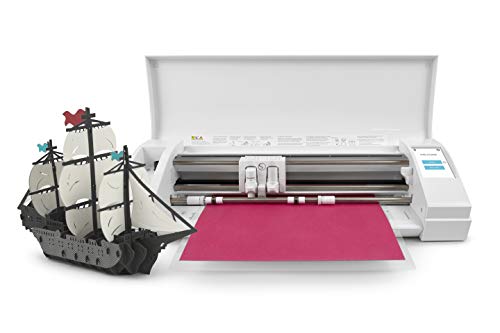 Also worth pointing out is that the Cameo 3 is massive. It has a cutting size of 12" x 10', and yes that is 10 feet. It's a lot more than the Cricut Explore Air 2 can do at only 12″ x 24″.
Speaking of the Cricut Explore Air 2, it's definitely a beast and also features the dual carriage design which allows it to perform scoring and writing or writing and drawing simultaneously.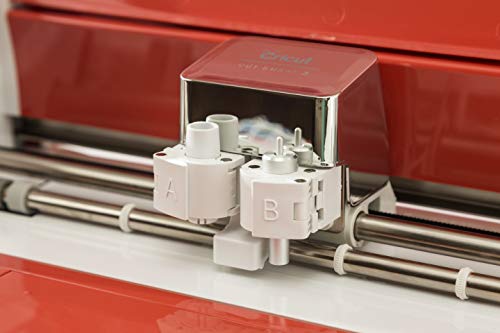 However, it's about twice as fast as the Cameo 3 and has superior precision to both its predecessor and the Cameo 3. It's a more suitable choice for designs with complex lines and depths.
The Fast Mode feature is partly responsible for the speed boost and it's also one of the best settings you can use when working with cardstock, iron-on materials, and vinyl. And, just like the Cameo 3, the Air 2 supports over 100 materials.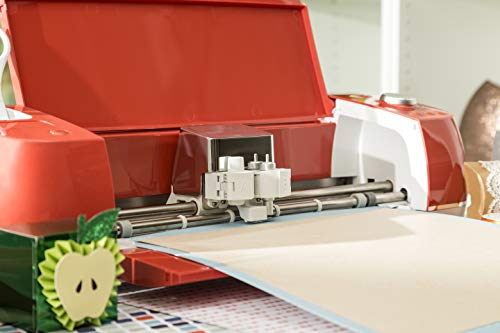 By comparing the cutting performance, two things become clear. The Cricut Air 2 is probably the best machine for anyone designing smaller crafts and anyone that needs a machine with a high-volume workload. While the Cameo 3 is best suited for designers working with larger sheets and (therefore) aren't in a hurry to get the job done.
Brand Popularity and Community Support
Both Silhouette and Cricut are highly respected American brands in the field. This means that unless you have a particular fondness for one of them, it's not really worth comparing names and reputation.
And, if you have concerns regarding community support, you can put them to rest. Both Silhouette and Cricut have legions of fans and users. The community resources such as guides, tutorials, and discussion threads are rich with information whether you're a novice designer or a bona fide expert.
Aesthetics and Pricing Comparison
Does the way the machine looks matter that much? For some people it does. Silhouette put a lot of thought into the appearance of the Cameo 3. The machine is sleek and comes in all white with a simple Cameo logo in teal on the top of the case.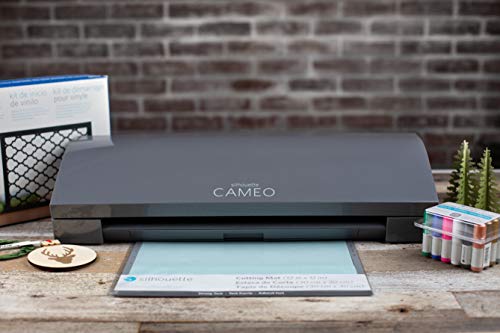 The Air 2, on the other hand, comes in three different colors. You can find it in pink, blue, and teal. It also features a slightly bulkier appearance as it is taller than the Cameo 3. But, the design features rounded edges which makes it look quite eye-catching.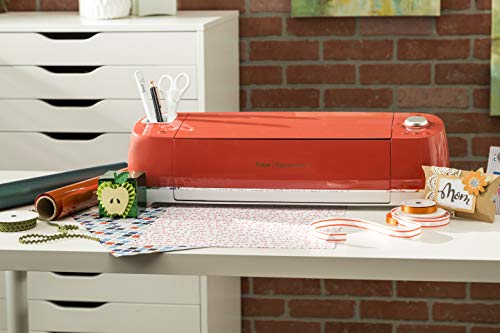 When it comes to pricing, it can be hard to put your finger on a clear winner. The MSRP is the same for both but the discounted prices might differ. There are many bundle deals you can find for each machine, but let's set that aside for a moment. You might find the Cameo 3 at slightly lower discounted prices, but it's really six of one and half a dozen of the other.
Is there a clear winner in aesthetics and pricing? Not really. The list price is the same and looks are matters of personal preference.
Silhouette Cameo 3 vs. Cricut Air 2 Closing Thoughts
So, which machine is better for you? The Cricut Air 2 is clearly a machine designed for huge workloads. Its speed and advanced precision allow it to write, draw, and score your designs into something tangible on a wide range of materials in record time.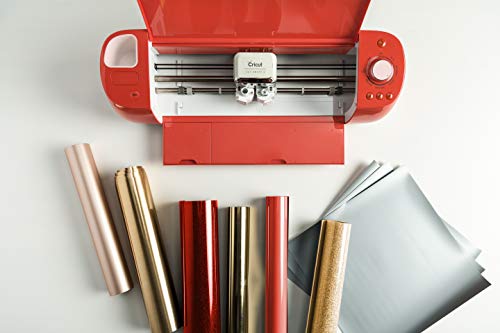 >>> Click here to grab your Cricut Explore Air 2
What about the Cameo 3? Although the Cameo 3 is considerably slower, some people might appreciate it for the software alone. It can give Illustrator a run for its money and it's without a doubt some of the best design apps to come with a vinyl cutter machine.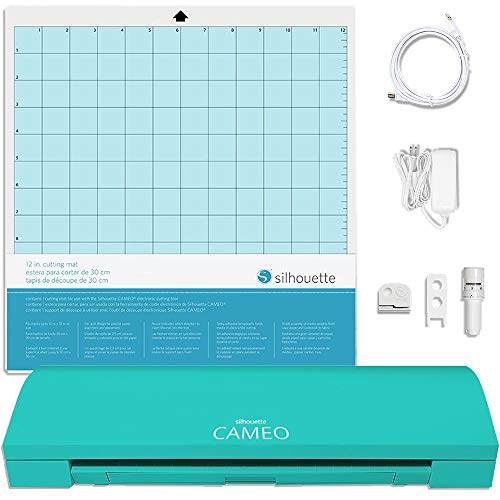 Also, if you want to work on large crafts projects, the 12" x 10' cutting size is almost unbeatable.
>>> Click here to grab your Silhouette Cameo 3 Cutter
At the end of the day, you can monetize your creativity with either machine. And, whether you have an unlimited or a very tight budget, there are plenty of deals and bundles that you can take advantage of with both machines.
Both the Air 2 and the Cameo 3 can do many things equally well. And, they also excel in various applications. It comes down to you knowing what you want to create, how fast you need to get things done, and what your level of expertise is before making a decision in either direction.
Further Reading: