Today we want to talk to you about why we love the fabulous Craftsy Affiliate program so much. Just before you get confused, I wanted to point out that whilst most people still recognise the Craftsy brand, not many people are aware that they changed names to Bluprint.
We absolutely love the Blueprint affiliate program, because "truth be told", it is just such an easy way to add to your income for the month. They have done such a fabulous job at offering FREE hooks for visitors with free trials and free classes, that really all you have to do, is to get the readers from your blog to simply click on the link and check them out.
They have fabulous classes that are trendy and easy to follow.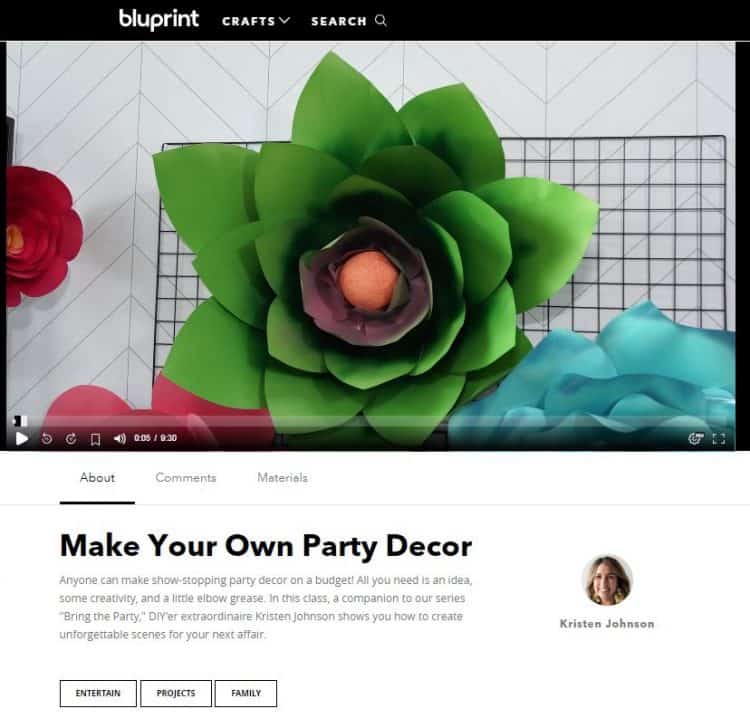 In a hurry to join their program? Simply click the link below – otherwise, keep reading so I can outline all the fabulous benefits of promoting Bluprint to your readers.
Click here to join the Bluprint/Craftsy affiliate program!
You will need to create a free account with the ShareaSale affiliate network, and then you can register for the Blueprint affiliate program.
What is Bluprint all About?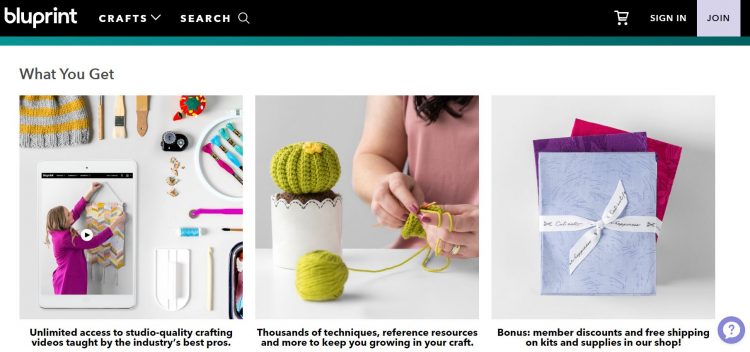 Bluprint is a fabulous online class and workshop website for creative people. There, crafty people can stream 3,000+ hours of expert video tutorials, exclusive series & so much more. They also have kits and supplies on offer through their site as well.
The beauty of Bluprint is that all the video classes, tutorials and workshops are high-quality. So whilst readers can find free tutorials on YouTube, you can also find a lot of "rubbish" tutorials on YouTube.
Now if you are in the crafting industry, and you have a website that talks about topics such as these below, then the Bluprint affiliate program will be perfect for you.
Papercrafts
Sewing
Quilting
Knitting
Painting
Drawing
Plus so many other categories. Here is a quick screenshot of all of the fabulous categories that they cover on their site.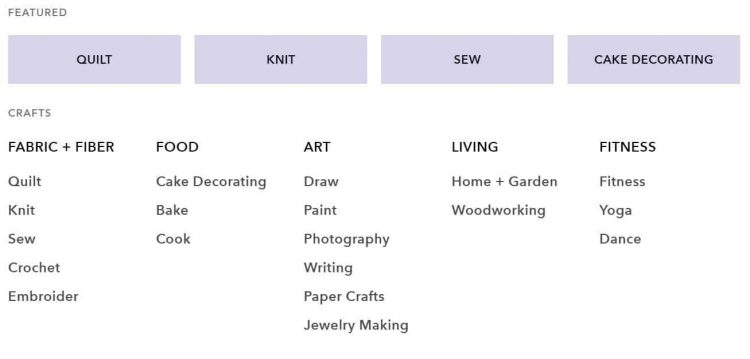 Here is Why You Will Love the Bluprint Affiliate Program
The Bluprint affiliate program is a super fabulous way for bloggers and website owners to earn money quickly and easily. This program is great for a large variety of bloggers, from craft bloggers, food bloggers, fitness and health bloggers and even lifestyle bloggers.
We are BIG FANS of brands that offer freebies for readers, but reward you for sending the reader their way. So you will get $5 for any reader that you send to BluPrint who subscribes for their FREE trial. Isn't that crazy!? I LOVE IT!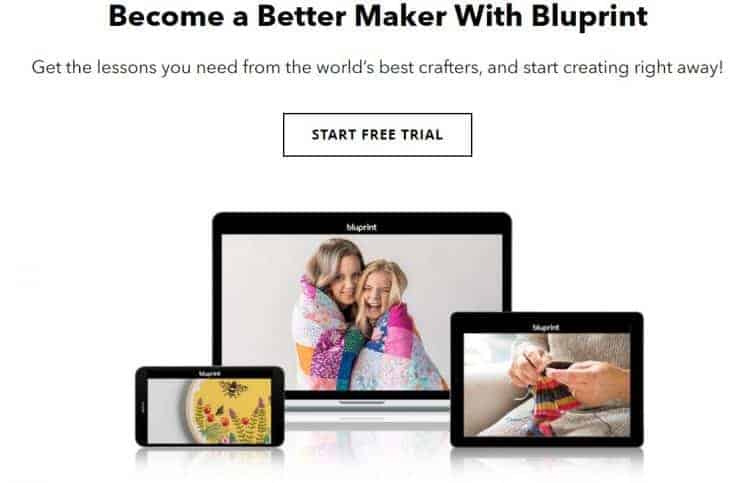 If that isn't enough to persuade you to join their program, how about these benefits – feeling more convinced now?
What Can You Earn with the Craftsy Affiliate Program
Here is a list of all of their fabulous affiliate payments. The cookie term refers to how long the system will give you a commission for the referral.
So for example, if the cookie is 30 days, and your reader clicks on your link today, but decides to close the browser (maybe they need to think about it), but goes back within the next 30 days and goes through with the trial or purchase, then you will still earn that commission.
75% of first-time class or DVD purchases by new customers (30-day cookie)
15% of class or DVD purchase by existing customers (5-day cookie)
15% of physical product purchases by new customers (30-day cookie)
4% of physical product purchases by existing customers (5-day cookie)
$5 Bluprint trial signup (15-day cookie)
$15 Bluprint monthly membership signup (15-day cookie)
$20 Bluprint 6-month membership signup (15-day cookie)
$25 Bluprint annual membership signup (15-day cookie)
$20 Bluprint gift subscription (15-day cookie)
$15 for referring a friend who is accepted into the affiliate program
What we LOVE about the program is that you can simply encourage your readers to try them out FOR FREE and you will still earn money. Now if that referral ends up buying a membership within the cookie timeframe, then you will earn even more without even doing any work. Brilliant isn't it!?
How do you Join the BluPrint – Craftsy Affiliate Program?
The BluPrint affiliate program is hosted by a company called Share a Sale. Share a Sale is an affiliate network that looks after thousands and thousands of affiliate programs of popular brands. It is a great network to be a part of and you will most likely find loads of other relevant brand's affiliate programs to join there as well.
Here are the steps to get you set up:
Next, create a free account with the ShareaSale affiliate network (you might need to wait to get this approved before completing the last step)
Lastly, register for the BluePrint Affiliate Program (I love to include a note about how I can be beneficial for a company in order to upscale my chances of getting accepted by a brand as an affiliate)
Smart Ways in Which you can Promote BluePrint?
Have loads of tutorials currently on your website? Often readers will get more value out of a video in comparison to a step-by-step written tutorial. So think about where you can offer them a link to a class on Bluprint that will help them further develop a skill that you might have discussed in your tutorial.
Think about trying out a class on Bluprint yourself and then writing about your experience in a review type post. If doesn't even have to cost you anything, you can sign up for that free trial yourself and test one out.
Next, Bluprint also has a fabulous section on their site that tells you which classes are currently doing really well – think about using this to your advantage!
Why not make a list of all of the FREE classes that are available at Bluprint for your readers to try out?
Share some free patterns with you readers – readers love free things and it is a great way to get them hooked on to the site.
Don't forget to share your links on your social media as well.
Send an email about Bluprint to your email subscribers
Grab one of the banners from the Bluprint affiliate area and include this on blog posts or in the sidebar of your blog.
Another great idea is to keep an eye on the coupons and promotion area of the affiliate section, where you will find even more fabulous ideas on how to promote current deals to your readers.
I hope I have inspired you to take the plunge and sign up for the Bluprint program. It really is a lovely and easy way to boost your income and because you are adding value for your readers (with free trials and free classes), it is an easy way to promote without coming across to 'salesy'.
Let me know if you have any questions.
Till next time,
Sam xxx